Even if you don't use Twitter, you've probably heard about the amazing predictive powers of Trump's Twitter archive. For every stupid action Trump takes as president (and there are no other kind), there is an equal and opposite reaction tweet from the Trump Twitter archive. The many Trump tweets criticizing President Obama for golfing or vacationing are just the most obvious examples.
Tonight, Trump will announce a "new" strategy in Afghanistan. If the Nostradumbass principle holds true, Trump will follow the well-worn path of pouring yet more billions into the pockets of kleptocrats, war lords and contractors. Dan Eggen (@daneggenwpost) at the Washington Post pulled up some tweets from the archive: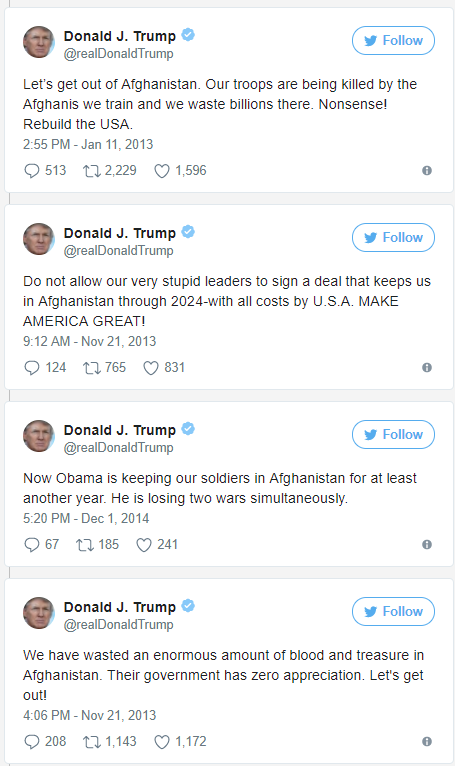 Dickish backseat driving aside, these tweets express a fundamental break with both the Bush 2 and Obama administrations' approach to Afghanistan. And while it's likely that only a handful of certified idiots would have voted for Trump specifically to change those policies, he's about to expose them for the suckers they are: Tonight, Trump will find a way to walk that shit back while making it all about himself.
Expect much praise for the sagacity of the generals and much more for the wisdom of Trump himself in tonight's address, with emphasis on how past presidents were total losers but Trump will win because he's a winner. It will, as usual, be a tapestry of lies. The only winners will be the kleptocrats, war lords and mercenaries, who have been winning all along.