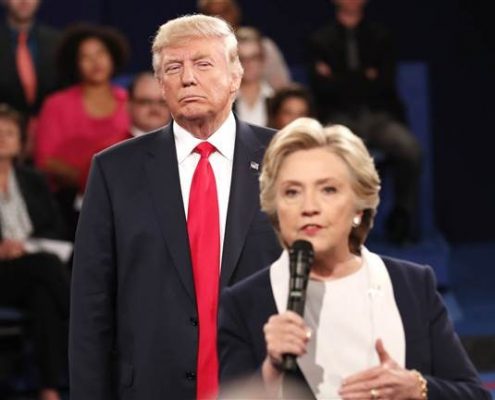 NBC obtained an excerpt of Hillary Clinton's upcoming book, in which Clinton describes that whack moment during a town hall-style debate when Trump was lumbering around behind her like a sour-faced, spray-tanned golem:
"My skin crawled," Clinton said. "It was one of those moments where you wish you could hit pause and ask everyone watching 'well, what would you do?'"

Clinton said during the debate she decided against telling Trump, "back up, you creep, get away from me," and in order to keep her composure, she gripped the microphone "extra hard."

But, in hindsight, Clinton wondered if she should have taken the time to tell Trump off for following her.

"It certainly would have been better TV," she said. "Maybe I have over-learned the lesson of staying calm, biting my tongue, digging my fingernails into a clenched fist, smiling all the while, determined to present a composed face to the world."
Wouldn't have made a difference — the Beltway morons would have implied that only a brittle, hysterical, ambitious, deceitful, inauthentic woman would have reacted to Trump's purposeful, dynamic movements in such a way. Still, I want a "back up, you creep" bumper sticker.
In other news, Trump also creeps out Katie Couric:
This morning, after reading the totality of @realDonaldTrump 's speech in Phoenix, I am truly afraid for our country.

— Katie Couric (@katiecouric) August 23, 2017
Katie Fucking Couric!
I was glad to see that from her because I saw the speech this morning and found it so unsettling that I'm having a hard time focusing on regular life. I guess it's not just us libtards if it scared the shit out of Katie Fucking Couric.
Anyhoo, open thread.
ETA: The Dems could do worse than "Back up, you creep" as a slogan, though I am partial to "Come with us if you want to live."