Iowa submitted a Section 1332 State Innovation Waiver to the Center for Medicare and Medicaid Services (CMS) yesterday.  It is the biggest and most complex waiver yet to be submitted.  It is an invitation to long and costly lawsuits because of how it uses CSR funding.
Other states have submitted reinsurance waivers where they are using advanced premium tax credit funds and some local money to create reinsurance pools to carve out super high cost claims.  This carve out lowers net of high cost claim premiums.  The primary impact is that it lowers the premiums for the non-subsidized population while holding the subsidized population harmless.  Alaska has this type of waiver approved, Minnesota and Oklahoma have this type of waiver in the pipeline.  These waivers maintain the fundamental structure of the ACA while shifting money around behind the scenes.
Iowa is different.  They want to rebuild their entire market. The state will use all advanced premium tax credit and cost sharing reduction subsidy (CSR) funds to do two things.  The first is to create a reinsurance fund for super high cost claims.  The Million Dollar Man that we have discussed in the past would have his care paid from the reinsurance pool.  So far this is not unusual.   Secondly, they want to change the subsidy and plan choice menu.  Iowa intends for  insurers to offer a single plan with a 70% actuarial value on and off exchange.
Premium subsidies would be paid for out of the pool of money that is left over from the ACA premium and CSR subsidies.  These subsidies would apply by age and income cells.  People who make more than 400% Federal Poverty Line would receive subsidies.
This is a massive change.  And it is an invitation for lawyers to be very busy.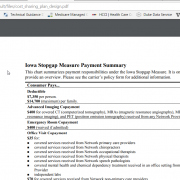 It is a transfer of resources from poor and sick individuals to healthier and higher income individuals.  Currently, a 40 year old who makes $17,000 a year can buy the benchmark  94% Actuarial Value Silver plan for $52 a month.  This is $624 a year.  That plan in Des Moines (zip code 50047) has a out of pocket maximum of $825 for the year. The maximum cost for healthcare for this person is $1,449. Now the new Iowa plan has lower premiums at $12 per month for a total of $144 per year. This individual is better off if they are perfectly healthy. However the Iowa plan takes away the cost sharing reduction subsidy that bumped actuarial value from 70% to 94%. The Iowa plan has a $7,350 deductible that primarily applies to inpatient overnight stays.  So if this person has a single mid-level chronic disease with multiple monthly specialty drug prescriptions or an acute event that involves a single night in a hospital, they are paying thousands of dollars more in total medical costs under the Iowa plan than under the current state of the ACA.
Why does this matter?
Section 1332 waivers have four major guardrails.  Fundamentally they can be conceived as a challenge to the states that they have to meet or beat the ACA.
(b)Granting of waivers
(1)In general The Secretary may grant a request for a waiver under subsection (a)(1) only if the Secretary determines that the State plan—

(A) 

will provide coverage that is at least as comprehensive as the coverage defined in 

section 18022(b) of this title

 and offered through Exchanges established under this title 

2

 as certified by Office 

[3]

 of the Actuary of the Centers for Medicare & Medicaid Services based on sufficient data from the State and from comparable States about their experience with programs created by this Act and the provisions of this Act that would be waived;

(B) 

will provide coverage and cost sharing protections against excessive out-of-pocket spending that are at least as affordable as the provisions of this title 2 would provide; [my emphasis]

(C) 

will provide coverage to at least a comparable number of its residents as the provisions of this title 

2

 would provide; and
(D) will not increase the Federal deficit.
So what does "provide coverage and cost sharing protections against excessive out of pocket spending that are at least as affordable…" actually mean?
The current operative combined Section 1332 guidance issued on 12/16/15 from the Department of Health and Human Services and the Department of the Treasury lays out how they interpret Section 1332's requirements that coverage and cost-sharing must be measured:
Affordability refers to state residents' ability to pay for health care and may generally be measured by comparing residents' net out-of-pocket spending for health coverage and services to their incomes. Out-of-pocket expenses include both premium contributions (or equivalent costs for enrolling in coverage), and any cost sharing, such as deductibles, co-pays, and co-insurance, associated with the coverage. Spending on health care services that are not covered by a plan may also be taken into account if they are affected by the waiver proposal. The impact on all state residents is considered, regardless of the type of coverage they would have absent the waiver. This condition generally must be forecast to be met in each year that the waiver would be in effect.

Waivers are evaluated not only based on how they affect affordability on average, but also on how they affect the number of individuals with large health care spending burdens relative to their incomes.
The Iowa waiver submission will increase the number of low income residents with high percentages of their income devoted to health care costs.  The hypothetical 40 year old who has an expensive chronic condition will see a dramatic change in his total out of pocket spending from 8.52% of income under the ACA to 44% of income under the new Iowa proposal.  That is, in my mind, a meaningful difference in aggregate affordability of care for this individual.
There will be a number of individuals who will have significant, real and obvious harms from this waiver.  I will be shocked if at least one of them does not file suit to stop the Iowa waiver for at least the 2018 plan year.