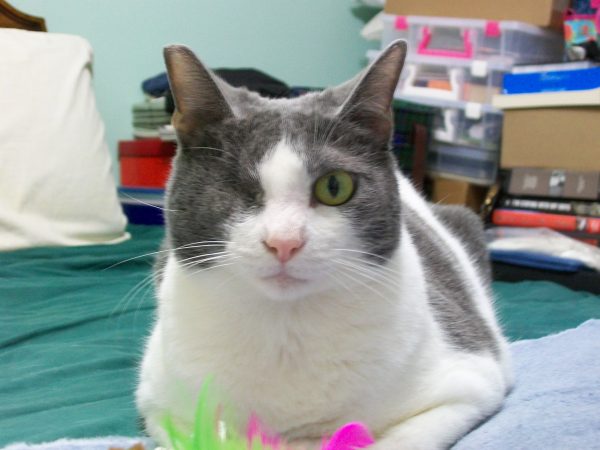 Remember Bella, and her rescuer Dalai Rasta (Scott)? They could use some help right now….
Unfortunately, everything hasn't been well. Bella had her first phenobarbital level taken on July 27. Her vet slightly reduced her dose because Bella was close to a toxic level; unfortunately, she had a seizure the following Saturday morning, so she had to go back to the original dosage. Bella's behaving normally now and hasn't had another seizure, but I'm still very concerned about her health going forward.

In other news, my father had to go to the hospital on July 28; his white blood cell count was very low, and he contracted a respiratory infection. He was diagnosed with streptococcal bronchitis and congestive heart failure. The hospital treated him for almost a week, then sent him home on August 3 and, to me, it all felt a bit precipitous. He's been improving, but he's still got a bad cough…

===========

Here is the link for my father's GoFundMe campaign: https://www.gofundme.com/eugene-p-carter-chemotherapy-fund

He was able to resume chemotherapy, and his time in the hospital has proved to be something of a positive, since his medications have been adjusted for his current condition. It's also just nice to spend a bit of time out of the house with him on the days I can accompany him for his treatments.

Bella is doing fairly well, though I am rather troubled that we weren't able to reduce her dosage. The cats have been introduced to laser pointers, and our two torties are big fans of the red dot. I'm adding a few pictures of Bella and Dobby playing with my father on the night he came home from the hospital.
I'm not on any social media other than this blog, so even if you can't donate, it would be a mitzvah for you to post the GoFundMe link on Facebook et al. Positive pings also encouraged!