Good Morning All,
This weekday feature is for Juicers who are are on the road, traveling, or just want to share a little bit of their world via stories and pictures. So many of us rise each morning, eager for something beautiful, inspiring, amazing, subtle, of note, and our community delivers – a view into their world, whether they're far away or close to home – pictures with a story, with context, with meaning, sometimes just beauty. By concentrating travel updates and tips here, it's easier for all of us to keep up or find them later.
So please, speak up and share some of your adventures and travel news here, and submit your pictures using our speedy, secure form. You can submit up to 7 pictures at a time, with an overall description and one for each picture.
You can, of course, send an email with pictures if the form gives you trouble, or if you are trying to submit something special, like a zipped archive or a movie. If your pictures are already hosted online, then please email the links with your descriptions.
For each picture, it's best to provide your commenter screenname, description, where it was taken, and date. It's tough to keep everyone's email address and screenname straight, so don't assume that I remember it "from last time". More and more, the first photo before the fold will be from a commenter, so making it easy to locate the screenname when I've found a compelling photo is crucial.
Have a wonderful day, and enjoy the pictures!
Looks like mom's chemo starts Monday. As you get older, life sucks progressively from loss of loved ones and icons, but then again, the alternative sucks eternally – I'll take that deal, every day!
"Hug before they're dead", I always say, as of now: one day, you're celebrating female empowerment and seeing Wonder Woman, the next comforting your mother because of some bad results on annual tests. And days and weeks later, things get darker. Don't just hug your parents,  everyone around us is precious and temporary. Love them.
And in case you've not heard, Freddie deBoer has hit some hard times mental-health-wise. There but some luck go many of us, as we should know. Keep him in your thoughts, and if you're going to slag him, please find another thread – we lift up, don't push down!
Have a great weekend everyone!
First up, pictures from valued commenter Gravie.
Some heavenly blue from the delphiniums in my garden. I could get lost in it.

Heavenly blue

Bend, Oregon

Delphiniums from my garden, up close and personal.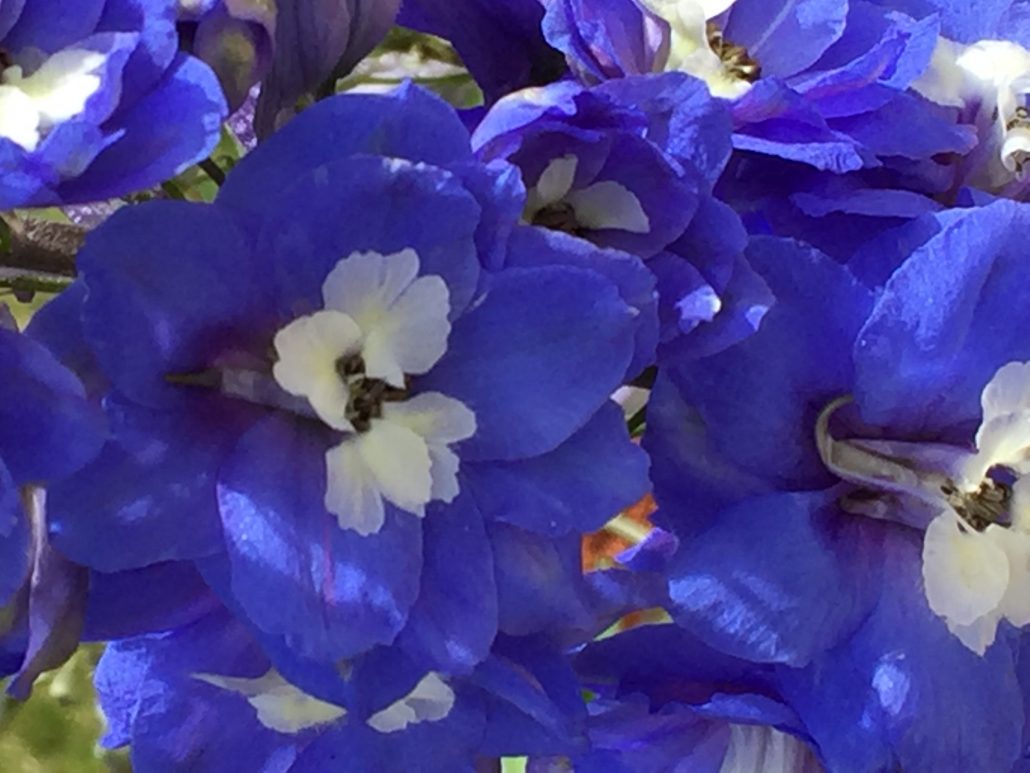 Today, pictures from valued commenter Le Comte de Monte Cristo, fka Edmund Dantes.
Been digging around in the archives for nice shots from our various travels. I found some gems!

Hungry Bear

Taken on 2010-10-20

Churchill, Manitoba, of n the tundra

As winter sets in, the bears are starving – the only way they can get proper nutrition is when the ice forms so they can hunt seals. Until then, they prowl the land, scavenging. We took this Natural Habitat trip together – I wish it was my shot, but I don't have the same gifts at photography that the Countess does.
On the Camino

Taken on 2011-06-02

Templar Castle, Ponferrada, Spain

The Countess walked the Camino de Santiago de Postela across northern Spain with her sister. The sister started in the Pyrenees, the Countess joined her beginning in Somewhere between the Pyrenees and Leon.
Peregrino Greeting

Taken on 2011-05-30

Leon, Spain

The youth of Leon greet pilgrims along the Camino
The Countess at the Taj Mahal

Taken on 2016-09-13

Taj Mahal, India

This was from the Countess' trip to India last year. I found this one and loved it – it isn't your standard Taj Mahal shot.
Tiger's Nest, Bhutan

Taken on 2015-10-30

Tiger's Nest, Bhutan

A couple of years ago, the Countess enjoyed exploring Bhutan – a country with strict tourism limits. This was apparently a VERY long climb.
A leisurely paddle..

Taken on 2015-10-27

Inle Lake, Myanmar

The Countess' Southeast Asian adventures are generally extensive. Once you get out of Yangon, the countryside is serene.
Monks await a meal

Taken on 2015-10-24

Amarapura Monastery, Mandalay, Myanmar

When the Countess goes to Southeast Asia, she gains a sense of calm when going to centers of Buddhist spirituality.

I loved the facial expressions on these.
Thank you so much Le Comte de Monte Cristo, fka Edmund Dantes, do send us more when you can.
Travel safely everybody, and do share some stories in the comments, even if you're joining the conversation late. Many folks confide that they go back and read old threads, one reason these are available on the Quick Links menu.
One again, to submit pictures: Use the Form or Send an Email