Which plan is better of the two below?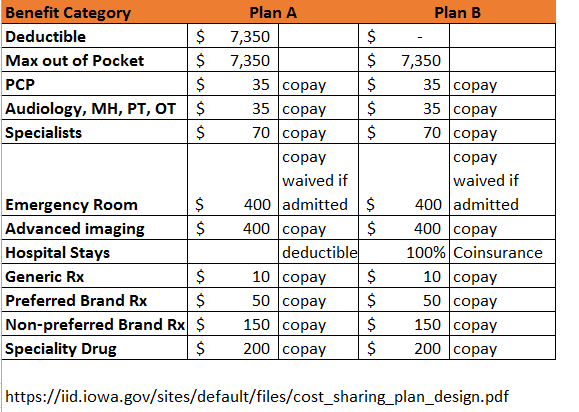 These are the relevant elements of the cost sharing design of two plans that share the same network from the same company in the same state.
Which one is better?
I'll give you time.
I lied. It is the same plan. It is the Iowa Stopgap Measure plan design.
Plan A is how the state writes it up. Plan B is how people will actually experience it. The deductible only applies to hospital services. Everything else is pre-deductible which means only the co-pay applies. Once a person pays the $35 co-pay for their primary care doctor, the insurance company pays the rest of the contracted rate. Deductible can be modeled as if it is 100% co-insurance and that is how I modeled Plan B.
Why does this matter?
This shows the meaninglessness of the meaningful difference regulation. The 2018 regulations require a difference in network, plan type or one of several types of cost sharing.
For plans to be considered materially different on the basis of cost sharing, QHPs within the
subgroup must differ in at least one of the following ways:
1) having an integrated medical and drug maximum-out-of-pocket limit (MOOP);
2) having an integrated medical and drug deductible;
3) having multiple in-network tiers rather than only one;
4) $500 or more difference in MOOP;
or 5) $250 or more difference in deductible.
Plan A and Plan B qualify on item #5, there is more than a $250 dollar difference in deductible. It is the same exact plan with the same exact set of incentives and out of pocket expenses for all clinical scenarios but Plan A and Plan B can each get a unique Plan ID on the Exchange. These two plans should be priced at the same exact amount for a given individual. Plan B with the 100% coinsurance for hospital stays might receive slightly better placement on search engines as the heuristic a lot of systems use is to highlight lower deductible plans.
The meaningful difference regulation is too easily gamed and this is an extreme but allowed example.