Northwell in New York State is getting out of the insurance business in New York State. Zach Tracer at Bloomberg reports that the Care Connect subsidiary is shutting down. They are partially blaming risk adjustment.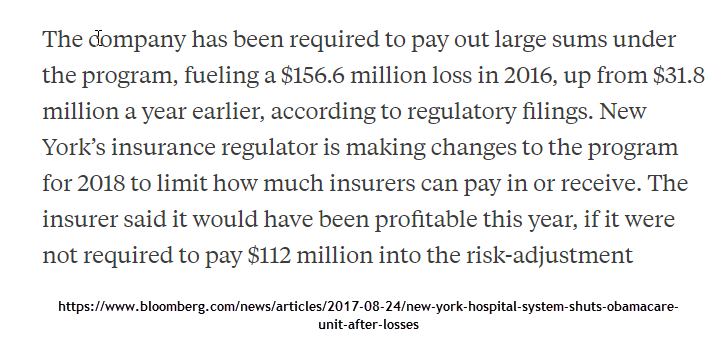 There are three stories that can be told about risk adjustment as an integrated delivery network (IDN) in New York State. One is a structural story about the market. The other two stories are stories about Northwell and the challenges and opportunities of a hospital running their own insurance arm in a risk adjusted market.
The first story is that New York State is weird with lots of odd rules. It still has true community rating where a 21 year old pays the same premium as a 64 year old. It has a Basic Health Plan that covers most of the 133% to 200% of Federal Poverty Line population. It has an extremely funky market in New York City and then once you get out of metro NYC, most of the state is rural. There could be a story that the market does strange things to new entries. We saw Health Republic had trouble in the state. Oscar has trouble in the state. Care Connect had trouble in the state. Insurance is a tough business and the local circumstances in New York State could make it tougher for new entries to the market.
An IDN with low leakage rates should be in a position to aggressively manage and optimize their risk adjustment scores.
Now the other two stories are risk adjustment stories. The first story is that Care Connect enrollees are significantly healthier than the typical New York enrollees. In this story, the coding on the claims is reflective of the patients' underlying conditions. This is an insurance division problem. They are pricing their products at a point which attracts a lot of healthy people but the price is too low. The price is being set at a point which does not reflect the cost of care plus the cost of risk adjustment.
The other risk adjustment story is that the patients are as sick as the typical enrollee and the premium is an accurate reflection of the cost of care and thus the underlying medical status of the population. But the claims are not being coded aggressively. If this is the case, then it is an integrated delivery network that is not integrated nor delivering on the aligned incentive promise. The docs, in this scenario, are coding as if they are still under non-risk adjusted fee for service contracts. Other insurers would be optimizing their docs to code aggressively and completely to bump up risk adjustment scores.
Care Connect/Northwell has extensive clinical medical records for its patients. They should have good medical history on quite a few of their more expensive patients as their docs have been treating those patients in their facilities for years before the Exchanges opened up. They don't have a good argument that the cost of data is too high for them to optimize their risk adjustment. If they are not optimizing their risk adjustment coding from at least the docs that they own and control, than that is just a management problem and not a risk adjustment problem.