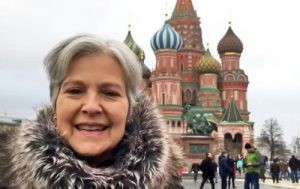 No, Jill Stein, you delicate flower, you can not demand that someone give you stage time:
A federal appeals court says a lawsuit by two third-party candidates over their exclusion from presidential debates in 2012 was properly dismissed.

The U.S. Court of Appeals for the District of Columbia Circuit ruled Tuesday that a lower court correctly dismissed a lawsuit brought by Libertarian candidate Gary Johnson and Green Party candidate Jill Stein.

The candidates alleged they were improperly excluded from the televised debates between President Barack Obama and former Massachusetts Gov. Mitt Romney. Johnson and Stein were excluded from the debates because polls showed them with less than 15 percent support.
And in all seriousness, you should thank the commission for not giving you a microphone, because all you would have said was stupid shit like this:
But her contempt has a more cutting quality when she talks about Clinton. She mocks Trump as braying menace; Stein thinks he's, at heart, a bumbler who will be neutered by his own party after being elected. But it's Clinton who poses the greater threat, in Stein's estimation, because she knows how to move the levers of Washington. "Donald Trump, I think, will have a lot of trouble moving things through Congress," Stein explains. "Hillary Clinton, on the other hand, won't… Hillary has the potential to do a whole lot more damage, get us into more wars, faster to pass her fracking disastrous climate program, much more easily than Donald Trump could do his."
Now fuck off with your fur coat and white privilege and your trust fund to Lexington where you can live out your days in irrelevance.