I wanted to look at the average purchased actuarial value on the Exchange in 2015. My expectation going into the data dive was that the average purchased value would be significantly below the target threshold. My thought was that all else being equal, a plan with a lower actuarial value will have both a lower absolute premium and a lower net of of subsidy premium. I thought that the marginal buyer on the Exchange is primarily price sensitive so that they would buy the lowest priced product within a metal band all else being equal.
I got surprised. This is not what I saw in the data for 2015.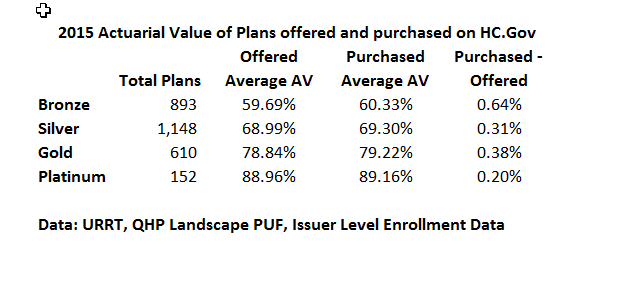 Average Bronze was a smidgen above the target.  Silver, Gold and Platinum were within one point of the target.  I had expected to see average purchased AV with a one's digit of eight not nine.
Chart 2 is the ever enrollment sums by trimmed actuarial value bins.  As you can see Silver is the dominant story here.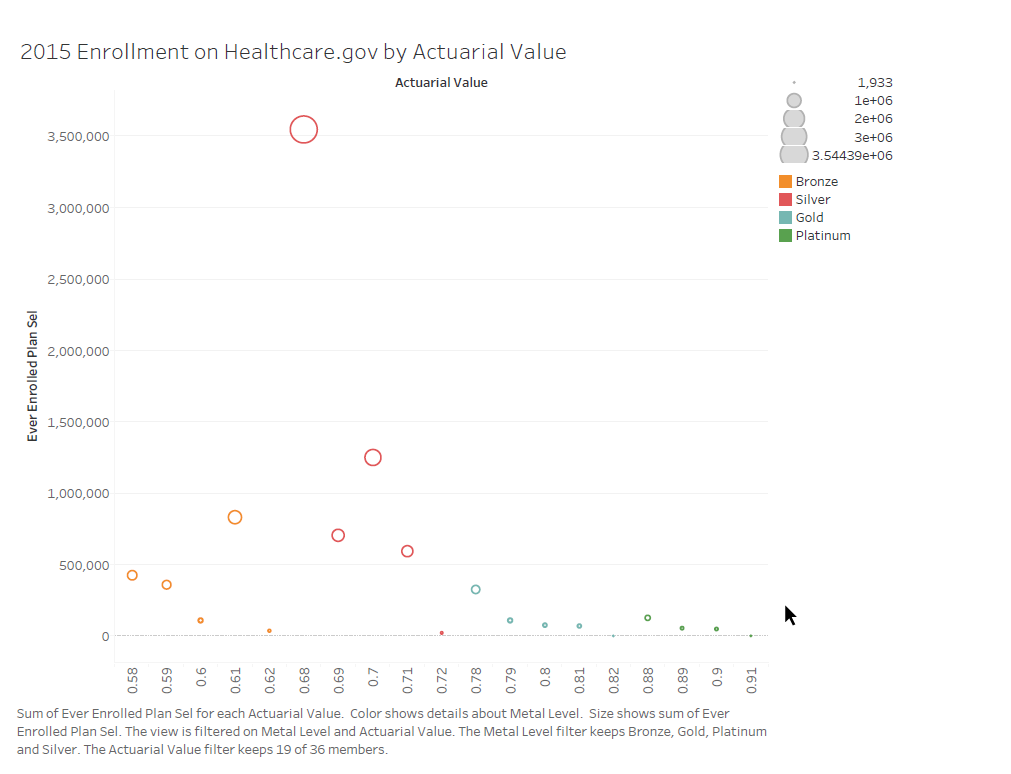 Bronze, Gold and Platinum have similar profiles.  Silver is a bit different.  I think that this is the Cost Sharing Reduction (CSR) effect.  CSR is added on top of the standard benefit design.  An CSR qualified individual will see the same net benefit structure if they buy a 68% Silver or a 72% Silver, all else being equal.  In this scenario, it makes the most sense for the individual to buy the least expensive Silver as they will still get a 73%, 87% or 94% actuarial value plan at the end.

The last thing that I found interesting is that insurers were offering lower AV value products on average than what was being bought.  The spreads were not large although it was largest at Bronze and smallest at Platinum.  I am not sure what this means but my expectations were wrong when I started this.
Data: Enrollment data was here. Actuarial Value data was from the Universal Rate Review Template PUF. Other data from 2015 QHP Landscape PUF.