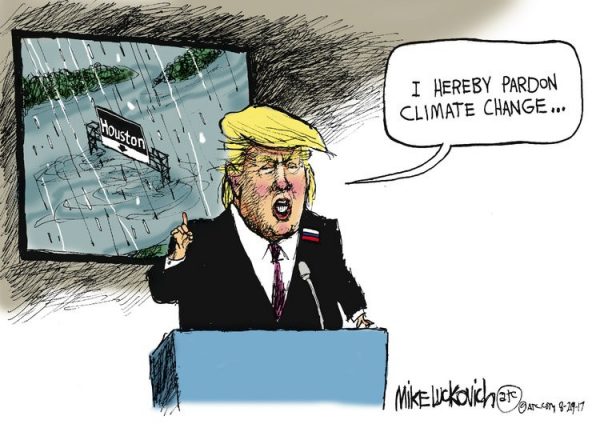 Wait, did Trump seriously fly down to Texas and not meet with any victims?

— Jesse Berney (@jesseberney) August 30, 2017
I was of two minds about all the bad publicity surrounding Trump's farcical Texas drop-in yesterday. On the one hand, it's always good when some of Trump's deluded cultists more optimistic supporters — not least his cheerleaders from the Very Serious Media — realize they mean as much to him as a well-done steak, to be devoured and forgotten. On the other hand, given Lord Smallgloves' notoriously pissy temperament, he could very well decide to punish all the LOSERS & HATERS by refusing to sign off on desperately needed aid packages…
the @dallasnews WH pooler is pretty done with @potus's TX visit. No "expression of sympathy," came with mysterious crowd of fans: pic.twitter.com/3poiXShQJG

— Heather Timmons (@HeathaT) August 29, 2017


Jenna Johnson, at the Washington Post, "Even in visiting hurricane-ravaged Texas, Trump keeps the focus on himself":
…His responses to the devastation caused by Hurricane Harvey have been more focused on the power of the storm and his administration's response than on the millions of Texans whose lives have been dramatically altered by the floodwaters.

He has talked favorably about the higher television ratings that come with hurricane coverage, predicted that he will soon be congratulating himself and used 16 exclamation points in 22 often breathless tweets about the storm. But as of late Tuesday afternoon, the president had yet to mention those killed, call on other Americans to help or directly encourage donations to relief organizations…

While Trump's top aides gathered with Vice President Pence at the White House over the weekend, Trump videoconferenced in. On Saturday, he wore a white campaign hat. On Sunday, he opted for a red version. As of Tuesday evening, both hats — which feature "USA" on the front, "45" on a side and "Trump" in the back — were being sold on Trump's campaign website, prompting ethics watchdogs to accuse the president of trying to profit off the crisis…
The president eats silica packets pic.twitter.com/BFzu9ko4mU

— Mark Agee (@MarkAgee) August 29, 2017
Frank Bruni, in the NYTimes, "The Waters Swell. So Does Trump's Ego":
… [W]hat Trump saw in Hurricane Harvey was a mirror of his own majesty. A storm worthy of a stud like him. A meteorological complement to one of his resorts, rallies or steaks. Something really, really big.

"Even experts have said they've never seen one like this!" Trump marveled on Twitter, and I read exultation into that not because I'm sour on the president but because I have eyes. Also because I have a memory. He has used almost exactly those words to describe a buffet of developments in his rise and reign, always with an air of self-impressed wonder…
Even Ari 'Dubya's Mouthpiece' Fleisher!

.
But then, next day…
TX Gov Abbott says federal funding for Harvey response should be "far in excess" of package for Hurricane Katrina

— Deirdre Walsh (@deirdrewalshcnn) August 30, 2017
Look who all of the sudden loves the heavy hand of the federal government https://t.co/qx07uoVdgt

— Michael Cohen (@speechboy71) August 30, 2017
On Harvey relief/recovery efforts, Trump says, "There's probably never been something so expensive in our country's history."

— Peter Alexander (@PeterAlexander) August 29, 2017
His sons are presumably busy setting up disaster relief/recovery companies. https://t.co/nTf1WsLzu8

— Daily Trix (@DailyTrix) August 29, 2017
— Howard Mortman (@HowardMortman) August 29, 2017
I have the biggest fonts, the most terrific fonts. Others wish they had fonts as large as mine.

— Violet Skyye (@Violetskyye) August 29, 2017