My sister is an idiot politically. I'm not being mean when I say this- she will admit it. So she is always posting stuff on facebook about current events and people go in and explain things to her. Today, this was her offering:
"So if Trump ends the Dreamers program, why does that mean those already in it have to leave? Breaks my heart seeing all of these students afraid."
At any rate, there was some random back and forth, and then this idiot shows up: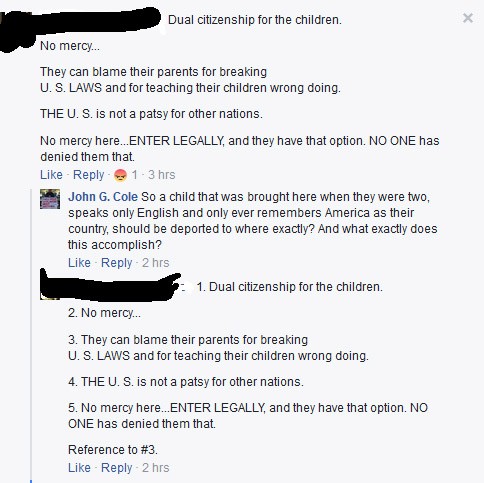 I've blocked out the name of the idiot posting that stuff, but I thought I would let you know that is my 1st grade teacher who used to be one of the nicest, sweetest, decent human beings. We all loved her. I have no idea what happened. Or maybe she was a closet racist the whole time and we were all too young to notice.
If you are wondering how we got to where we are now, there is your answer.