This is all sorts of terrifying: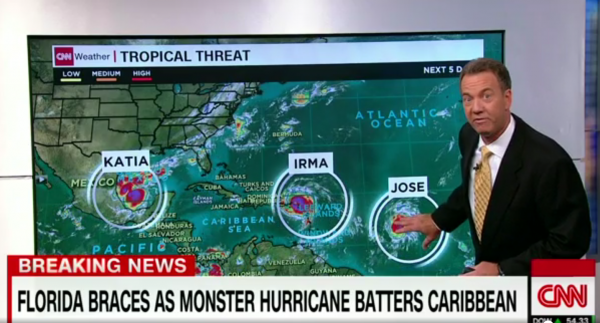 Three hurricanes all in striking distance of the US. If Obama was still President the religious creeps would be saying it was a sign from Jeebus. Now they'll probably just blame teh gays.
Meanwhile, if you are wondering why Trump sided with the Dems on a short term agreement on increasing the debt limit, this is why:
With Texas still reeling from Hurricane Harvey and another storm barreling toward Florida, the Federal Emergency Management Agency is expected to run out of money by Friday, according to a Senate aide, putting pressure on Congress to provide more funding this week.

As of 10 a.m. Tuesday morning, FEMA's Disaster Relief Fund, which pays for the agency's disaster response and recovery activity, had just $1.01 billion on hand. And of that, just $541 million was "immediately available" for response and recovery efforts related to Hurricane Harvey, according to a spokeswoman for FEMA who asked not to be identified by name.

The $1.01 billion in the fund Tuesday morning is less than half of the $2.14 billion that was there at 9 a.m. last Thursday morning — a spend rate of $9.3 million every hour, or about $155,000 a minute.
I would not be surprised if all this stuff starts to add up to a couple hundred billion by the time this hurricane season is over.