The Rand Corporation recently looked at actual claims data for employer sponsored coverage in the state of Indiana. They were primarily looking at hospital costs. The short finding is that there was massive variation in charges with some hospitals charging just a bit more than Medicare rates and other hospitals being paid three, four or five times Medicare rates.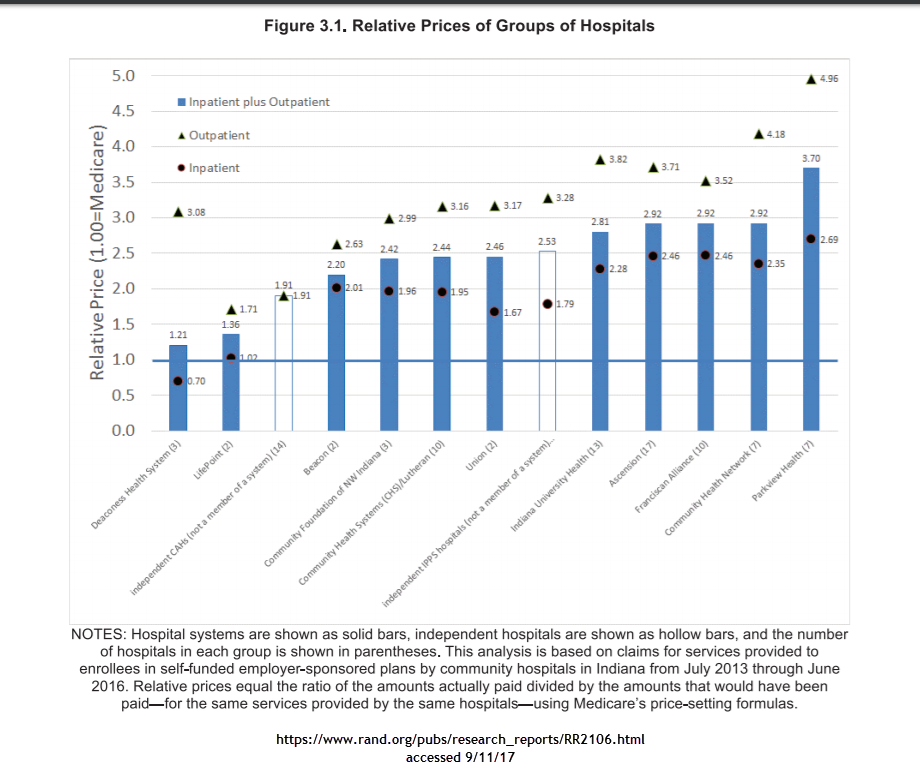 There are a lot of policy points that can be taken from this graph. The first is that there may be a strong public interest in breaking up some of the larger chains. The second will be the perennial cry of all payer rate setting so standardized rates are offered. The third is that there is an oddness in that outpatient services which are theoretically more easily competable and shoppable are much more expensive relatively speaking than in-patient services.
Indiana's pricing configuration invites narrow and tiered networks. Narrow networks are a way for an insurer to say no in order to get good pricing. Looking at the graph, a narrow preferred tier of Deaconness, Lifepoints and the independent critical access hospitals with a non-preferred tier of everything before Indiana University hospitals with a carve-out deal to send high end complex cases to one of the tertiary care hospitals makes a lot of economic sense. That type of network design offers a decent number of hospitals while trying to send people to the least expensive places of care. It also involves saying no a lot in order to get a better premium. That act of saying no disrupts current relationships and that produces screams.
But in the short term, if one wants lower premiums, that means expensive providers have to be minimized. Narrow networks with tiering and steering is the tool that accomplishes that goal.