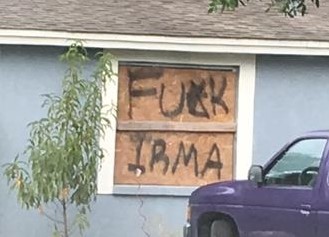 As many of y'all already know from updates Adam was kind enough to post or my intermittent comments on Twitter, my family, pets and I successfully weathered the storm. There are many tales of heartbreak, loss, destruction and tragedy associated with Hurricane Irma. Ours is a tale of mild bad luck, poor planning and personal inconvenience, which makes us fortunate indeed. Details below the fold…
When the storm took a turn toward us late last week, there wasn't much time to bug out, and we had a last-minute SNAFU when a sensor went wrong on our truck, rendering it incapable of going more than 10 MPH. Of course, no garages were open to fix it, and a remedy was beyond our paltry technical skills, so we had to rethink our plans and come up with a solution for the chickens and the truck. We found a garage outside the storm surge zone to house both.
Then, with the outer bands already lashing our area, we made a run for it with the dogs in my old car. The highways had been parking lots for days, with all the folks fleeing from South Florida. When we left home on Sunday mid-morning, traffic wasn't bad because sensible people were already long gone.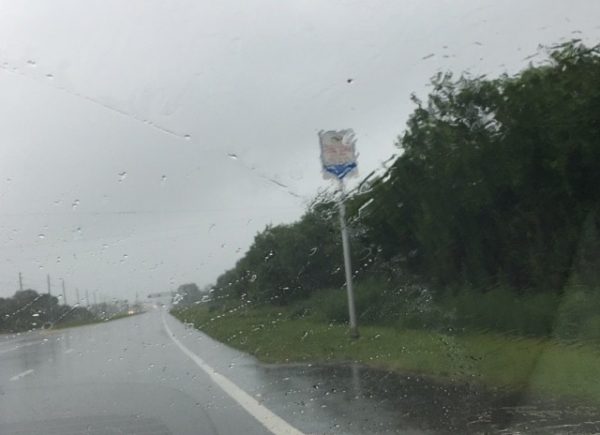 You can't read the sign above through the rain-streaked windshield, but it's posted along evacuation routes in my area showing the height of the storm surge — the blue line is allegedly where the waves would be in a major hurricane, which the weather-folk were then saying was headed straight for us.
Luckily, since we could only take one vehicle, my car has a mob boss trunk (capable of transporting half a dozen bodies), so we could stow all our food, drinks and luggage. We piled pillows and linens in the back seat. I rode back there with the dogs. It was nice some of the time: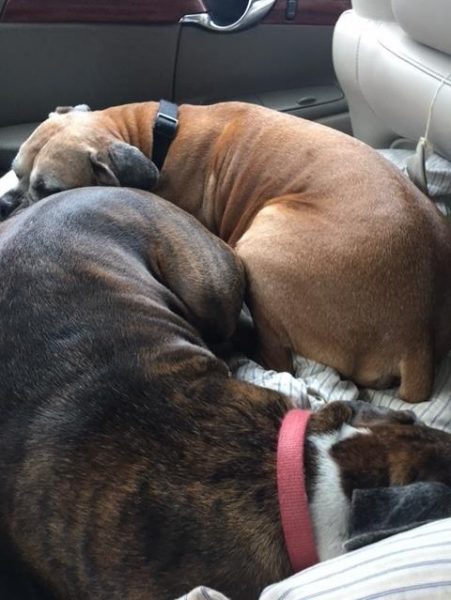 But then they got gassy, which was unfortunate for all of us, but especially me: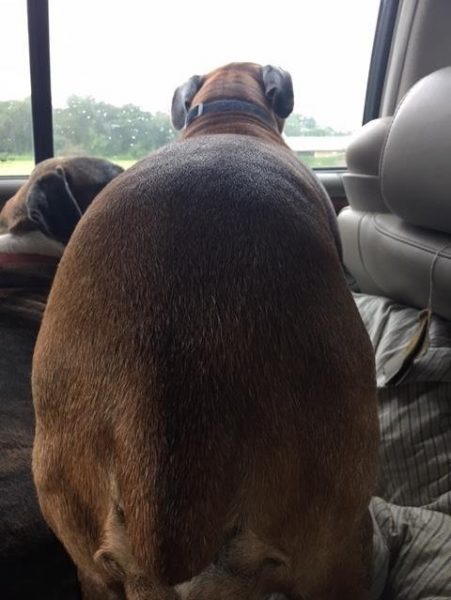 We arrived at our inland redoubt and waited in stormy conditions, which were inescapable in the peninsula at that point. We watched hurricane updates on TV until we lost power, and predictions were dire for our home. But instead of coming straight up Tampa Bay or passing it to the west as predicted, which would have created monster surge, the storm stayed east of the forecast track.
That was really good news for the Tampa Bay area. But it was bad news for where we were sitting in the middle of the state. On a weather app, I watched the now-eyeless orange blob approach our location. It reached us in the wee hours.
The wind was shrieking like 10,000 banshees. I could hear objects smashing into stuff outside. Aluminum carports detached and flew away in pieces. When I dared approach a window or peek out a door, I saw shingles flying and hunks of siding and branches tumbling down the street.
Incredibly, everyone else slept through it. I stayed up all night drinking café con leche, comforting the dogs, hoping the roof wouldn't fly off, worrying about the chickens and my fish tank and waiting for dawn.
At first light, we could see a lot of downed trees, broken power lines and mostly minor structural damage to the houses around us. The one we were in had fairly substantial roof damage (no leaks, fortunately). Here's a representative sample of the state of the neighborhood: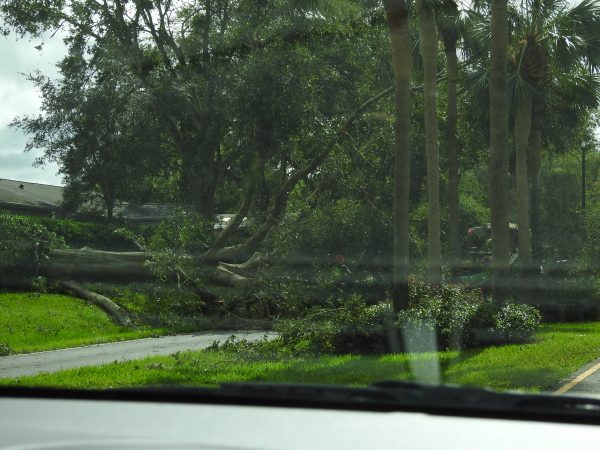 There were huge oak trees down everywhere. Most of the palms came through just fine. I could post half a dozen more pictures of downed trees, but you get the idea. It was a big fucking mess.
Luckily, no one was hurt in that immediate area. We started hearing from neighbors back home that our house was okay and the power was on. We were desperate to get back and make sure the house, chickens and fish were all okay.
I won't bother with the details because it's not that interesting, but it took us most of the day to find a place to fill up so we could return home.  There were long lines and short tempers, but we secured enough gas for ourselves and our fellow coastal refugees. The chickens were chauffeured home in a dog crate and re-cooped.
As it turns out, we didn't even lose power here. My fish were just fine. Sections of our fence got knocked down, the banana trees were flattened, and wet bamboo leaves blanket just about every exterior surface. But besides that, you'd never know there was a storm at all.
So, we were lucky this time. Most of our relatives are still without power, but it could have been a lot worse.
And for many people, it was and is a lot worse. I'm especially sorry for the migrant workers in Southwest Florida who lost what little they had. And of course, there's untold misery in the Caribbean. And in Texas.
When disasters happen, people help each other. But I have little faith we can get it together as a species to help the planet. Maybe Trump was our death knell as a civilization — ridiculous figures often are.
Anyhoo, with that cheery thought, open thread!