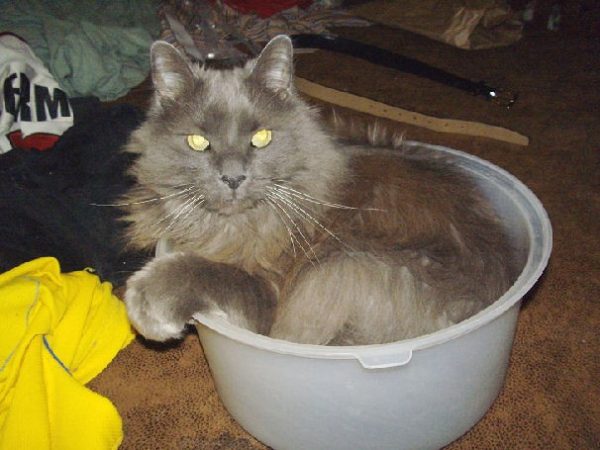 .
Spare a thought for commentor Tissue-Thin Pseudonym (JMN) tonight…
I'll never see him again; all I have is memories.

I remember finding him huddled under the tire of our car on a February morning when it was 0 degrees. He wasn't moving anywhere, so our only choices were to take him in or run him over. He had worms and a horrible case of ear mites, so we didn't bother trying to find the owner who had let him get into such rough shape.

I remember the cat who loved to pester Monster until she completely lost it and would repeatedly smack him in the head. He absorbed his punishment without complaint: that's the price you pay if you pester the top cat. Dirk had no problem being at the bottom, but he wasn't going to let Monster shirk her responsibilities.

I remember that he picked up more nicknames than any other cat I've had. One of them was Bus Person, from his habit of wandering around the house muttering to himself, like that guy who gets on the bus and you hope doesn't sit next to you. He was loud enough to be heard from three rooms away.

I remember the way that he and Eddie would wrestle. The goal was to pin the other so that you could groom him. It was very sweet.

I also remember how quickly he grasped that Eddie didn't want to wrestle anymore during the last year of his life. He treated sick, three-legged Eddie with great gentleness.

I remember how annoyed he got when three month old Harry followed him everywhere around the house. Harry worshipped him, and Dirk learned first to tolerate it, and then to enjoy it. And Dirk's gentleness with Eddie was repaid by Harry seeking him out and snuggling with him when Dirk was declining. Harry still worships him, and I'm not looking forward to tonight, when Harry starts to realize that Dirk isn't coming back.

I remember Dirk losing weight and kidney function over the last two years. My plan was to let him decide when to check out, when he stopped eating, but he defeated that. He kept eating, even as his kidneys and heart and brain failed him. He kept trying to move around even when he struggled to keep his paws underneath him. The last few weeks, he adopted a sprawled out eating stance as his hind legs, especially the left one, slid to the sides.

And I remember his exquisitely soft fur, the last thing I got to experience of him, even after he had stopped breathing. I'll be cleaning that fur off of everything I own for years still.

I miss him so much, and it's only been an hour.