On the Road is a weekday feature spotlighting reader photo submissions.
From the exotic to the familiar, whether you're traveling or in your own backyard, we would love to see the world through your eyes.
Good Morning All,
This weekday feature is for Juicers who are are on the road, traveling, or just want to share a little bit of their world via stories and pictures. So many of us rise each morning, eager for something beautiful, inspiring, amazing, subtle, of note, and our community delivers – a view into their world, whether they're far away or close to home – pictures with a story, with context, with meaning, sometimes just beauty. By concentrating travel updates and tips here, it's easier for all of us to keep up or find them later.
So please, speak up and share some of your adventures and travel news here, and submit your pictures using our speedy, secure form. You can submit up to 7 pictures at a time, with an overall description and one for each picture.
You can, of course, send an email with pictures if the form gives you trouble, or if you are trying to submit something special, like a zipped archive or a movie. If your pictures are already hosted online, then please email the links with your descriptions.
For each picture, it's best to provide your commenter screenname, description, where it was taken, and date. It's tough to keep everyone's email address and screenname straight, so don't assume that I remember it "from last time". More and more, the first photo before the fold will be from a commenter, so making it easy to locate the screenname when I've found a compelling photo is crucial.
Have a wonderful day, and enjoy the pictures!
Today, pictures from valued commenter Martin.
Unexpected company during Sunday morning yard work.

Staying frosty!

Taken on 2017-09-17

Socorro, NM

After using the electric weed whacker on a small patch of grass in the backyard this morning, while I was wrapping up the cord, I looked up into a tree and noticed this apparently very sound sleeper. The ensuing arrival of the batparazzi photo mob didn't faze it, either. The tree is a New Mexico locust, and the bat is, we think, a Hoary Bat.
I just love bats! I've had a few encounters over the years (including a classic "stoner encounter" with a two-minute-delayed, "dude…was that a bat?"). I was lucky to see a fruit bat in a habitat on Singapore's Sentosa Island, so I got to see it up close and they are just amazing.
I just received a kit to make a bat-signal tracker that I hope to deploy in my yard, then my mom's, then my sister-in-law's. It uses some custom circuitry hooked up to an ultrasonic microphone and piped to an Arduino microcontroller for analysis and reporting. Hopefully I'll be able to tell how many and how often we have visitors, perhaps type if their sound patterns are different enough. I just hope to get it working before the cooler weather sets in and there are less nocturnal insect prey.
This a followup to my earlier photo submission today.

Still chill

Taken on 2017-09-17

Socorro, NM

The wind has picked up a bit, and our furry friend among the foliage has turned, but is still very chill.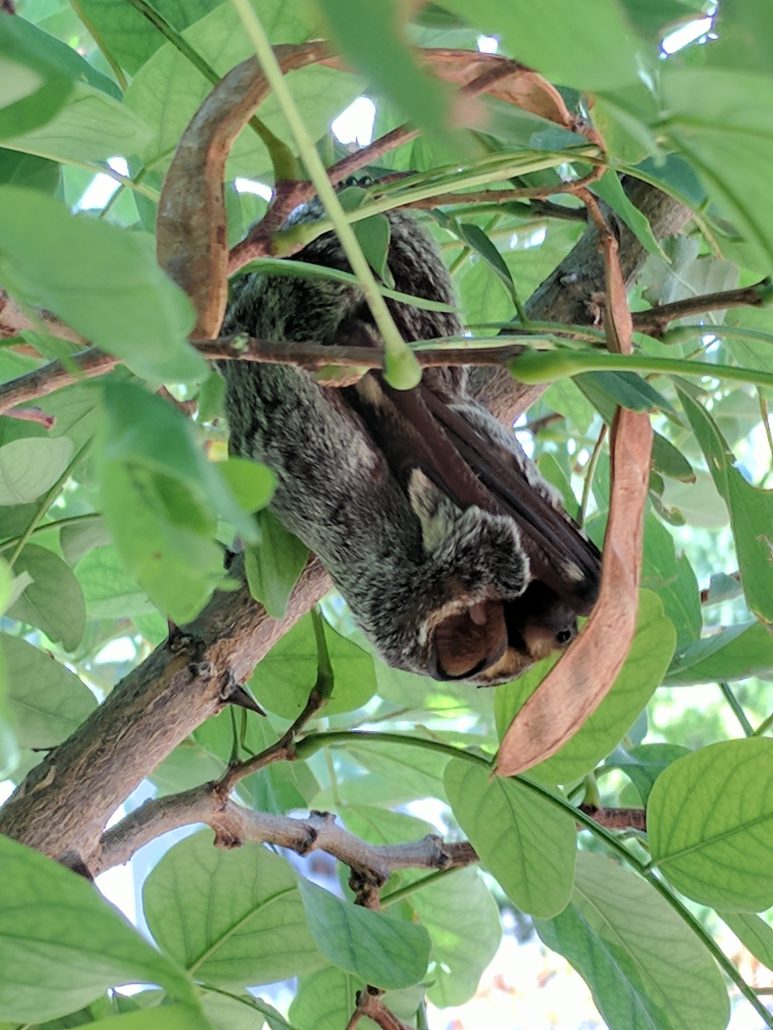 Taken on 2017-09-17

Socorro, NM

Lasiurus cinereus glamour shot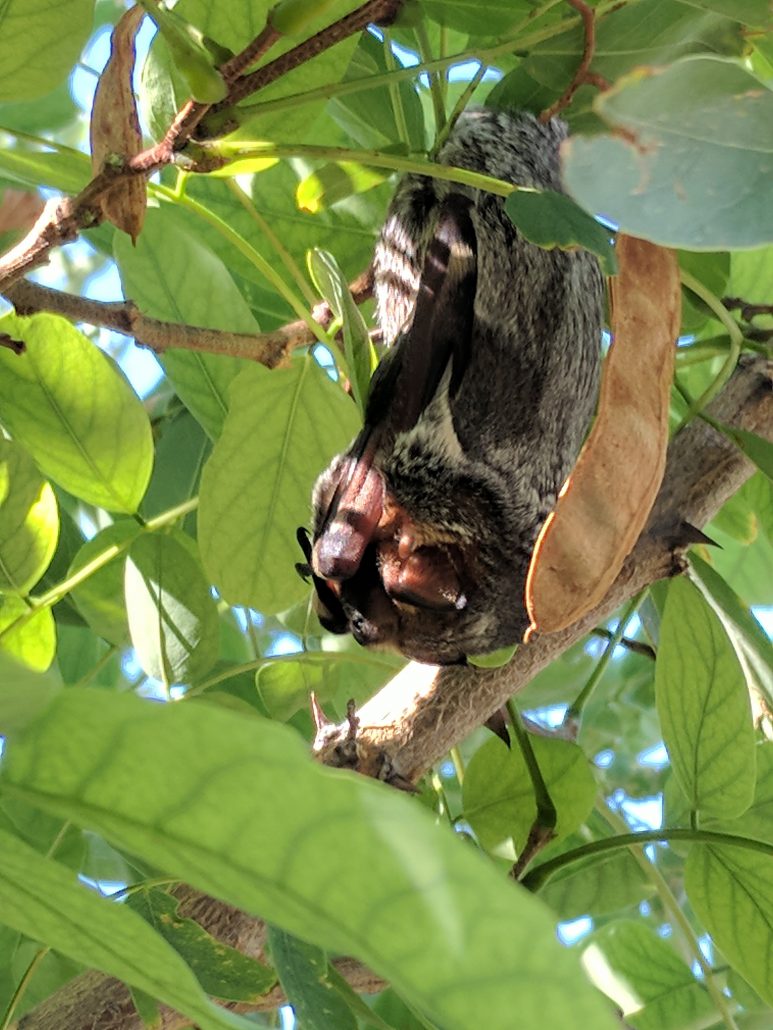 Thank you so much Martin, do send us more when you can.
Next up, pictures from valued commenter Schlemazel.
Visited the Soudan Mine State Park 9/16. Soudan was one of only a few underground iron mines & was profitable only because the deposit was iron oxide, 70% iron and 30% oxygen. People paid a huge premium for it because the oxygen removed carbon and made steel instead of cast iron.

A half mile down we saw the chambers where they worked. This is hard rock mining so no timber supports and really huge rooms (the deposit they were working at close was 300 yards long & 150 feet high.

But the real story to me was the guide whose grandfather immigrated to the US and worked the mine for 40 years. The guide talked about how hard, dirty and dangerous the work was, the men paid by the ton not the hour. Then he mentioned how the union made a huge difference, "They didn't want better wages to live an easier life, the wanted more money so they could send their children to college so they would never have to work down here" BANG!

Then he talked about how many of the crews had no common language because they came from all over the world. "Immigrants come here not for the easy life, they come to work hard because they know if they do their families will have a better life". WAM!

Never talked about what this means for today but you would have to be pretty dense not to see the parallels. That may be the most subversive tour I have ever been on. It also was a lot of fun & I recommend it if you have a chance to see the MN iron range.

Old surface mine

Taken on 2017-09-16

Tower Soudan Iron Mine State Park

They started mining ore by just digging open pits in the late 1880s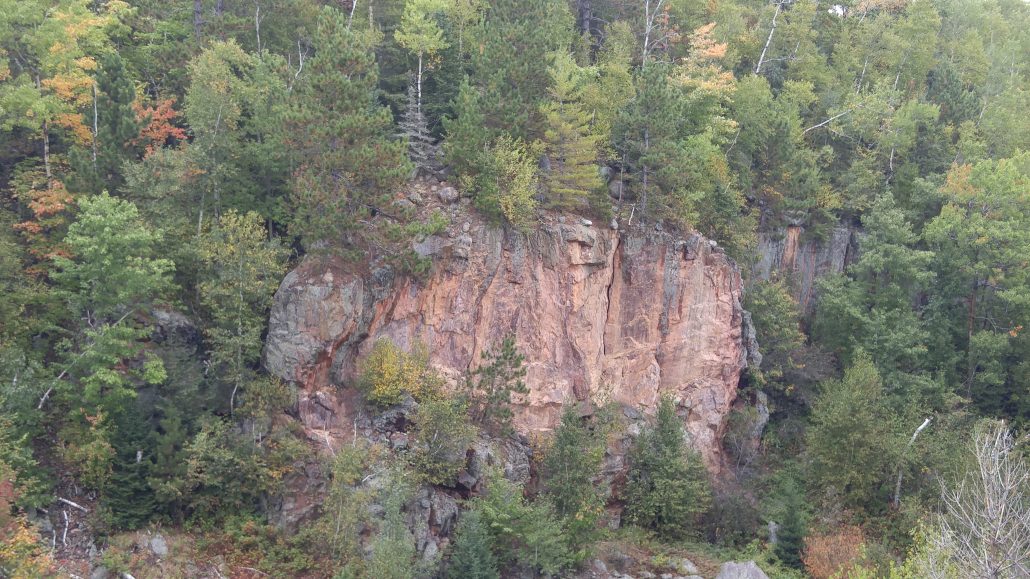 I screwed up & hit the wrong button these go with the previous one

the tunnel to the ore site

Taken on 2017-09-16

We are down a half a mile in solid rock – jasper and greenstone, some of the oldest rock there is. The waste rock was hauled up one level (~150′) to be used later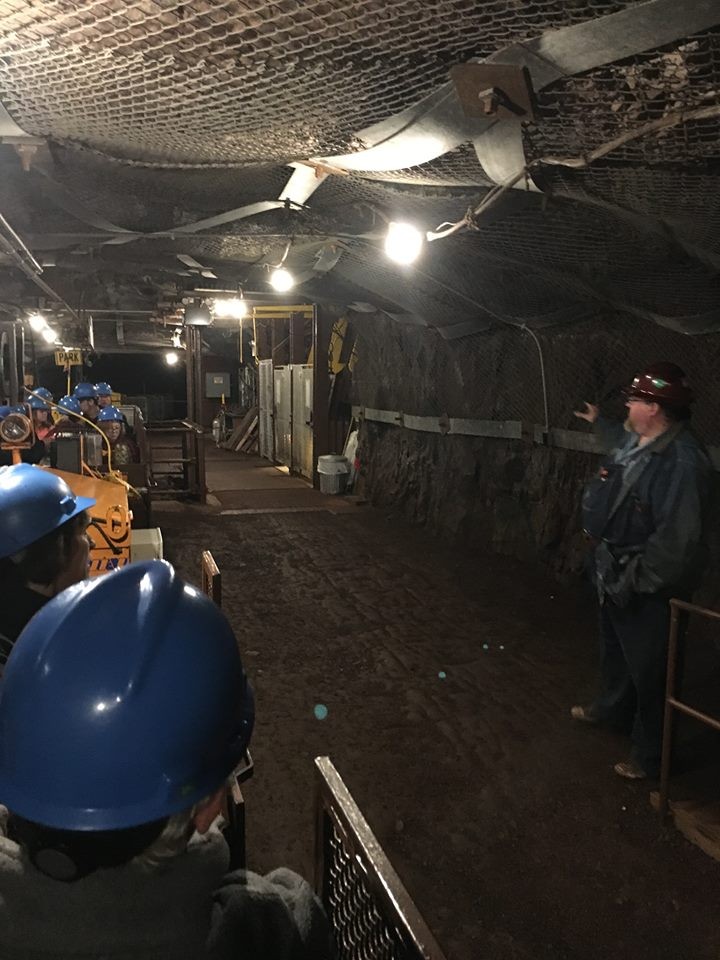 mine operation

Taken on 2017-09-16

The picture hardly does this justice but I don't have the skill to do better. This room was the last they were working when operations shut down/ A way to inject oxygen into the smelter made the premium paid for this special ore unnecessary and it became economically unviable.
They drilled up from the tunnel then blasted 10'x10′ chunks or ore down & shoveled it down the hole to the rails below. Because they worked up from the floor they drilled holes from the above level and shovel that waste rock down to the work area and drillers worked on mounds of that waste rock.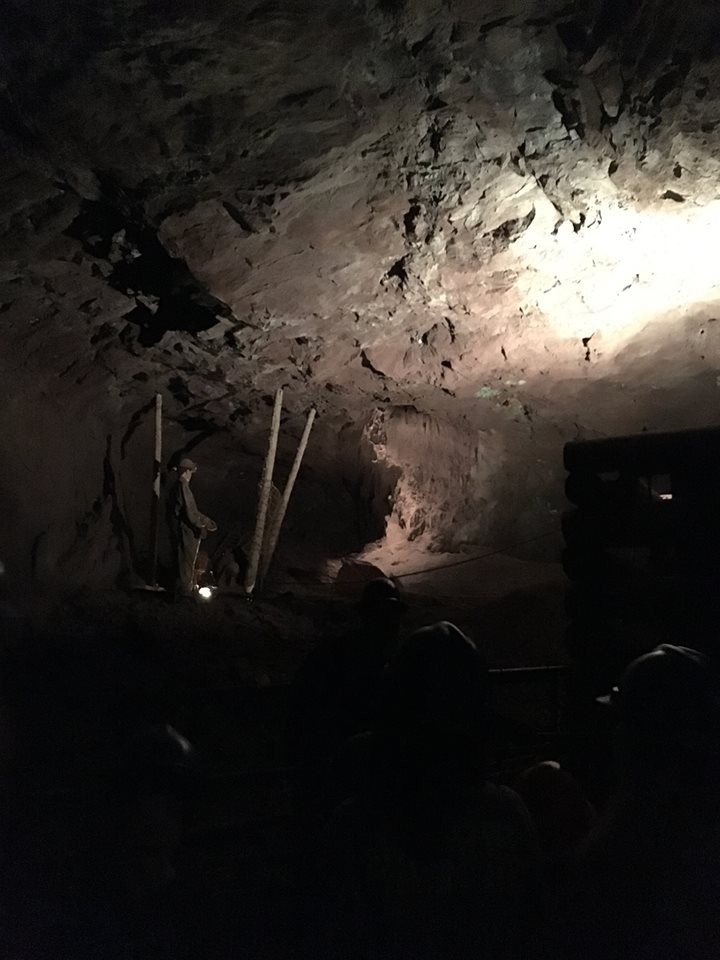 Maple branch

Taken on 2017-09-16

The maples are turning in Northern MN. Unfortunately, the weather was gray and rainy all day so this does not glitter like it would in full sun.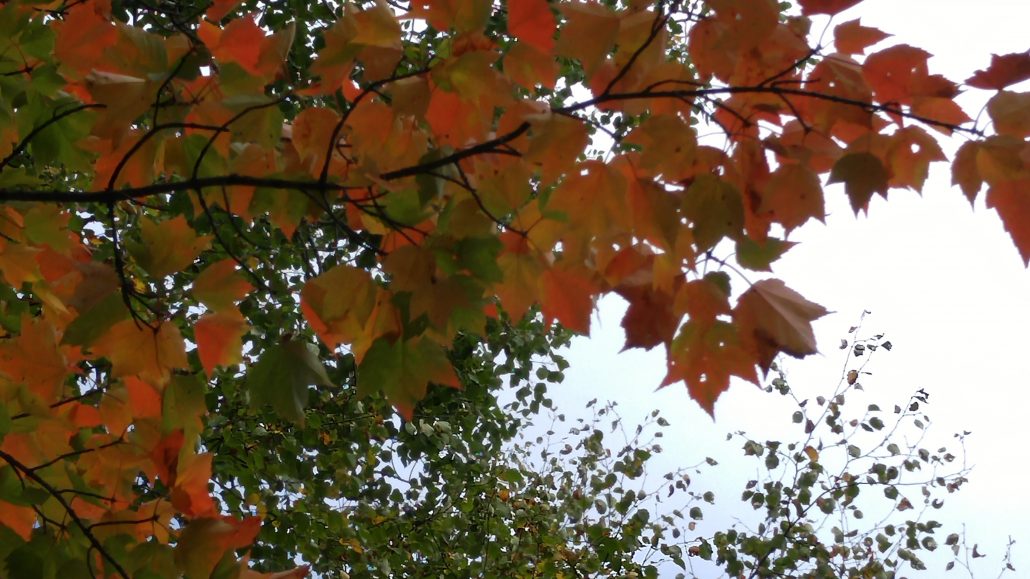 the highway in

Taken on 2017-09-16

One of the things with a mixed hardwood forest is that the trees do not all change at once but in stages by species.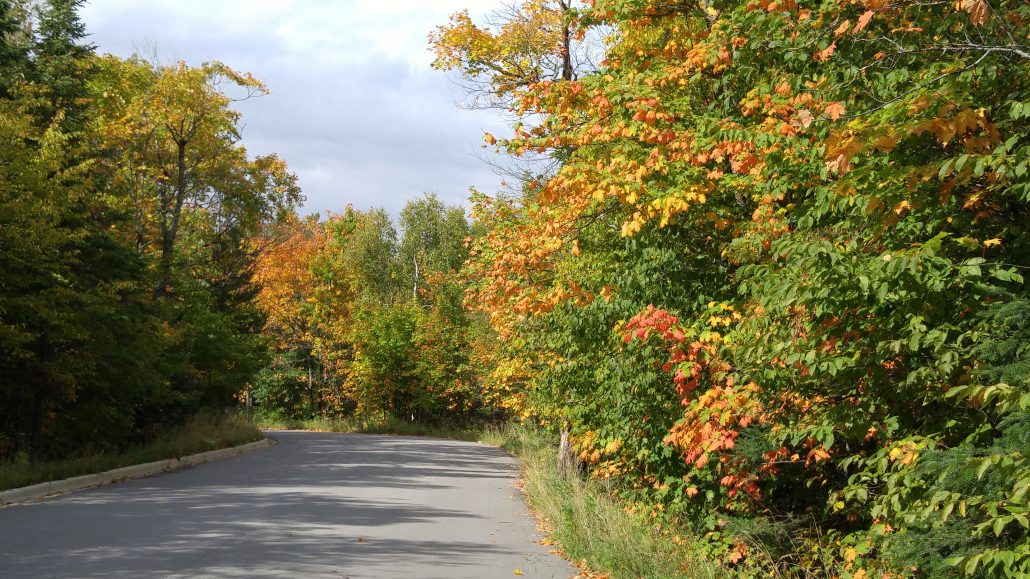 Park road

Taken on 2017-09-16

This is a road in the park, I just like how remote it felt. We hiked a couple of miles and never saw another human.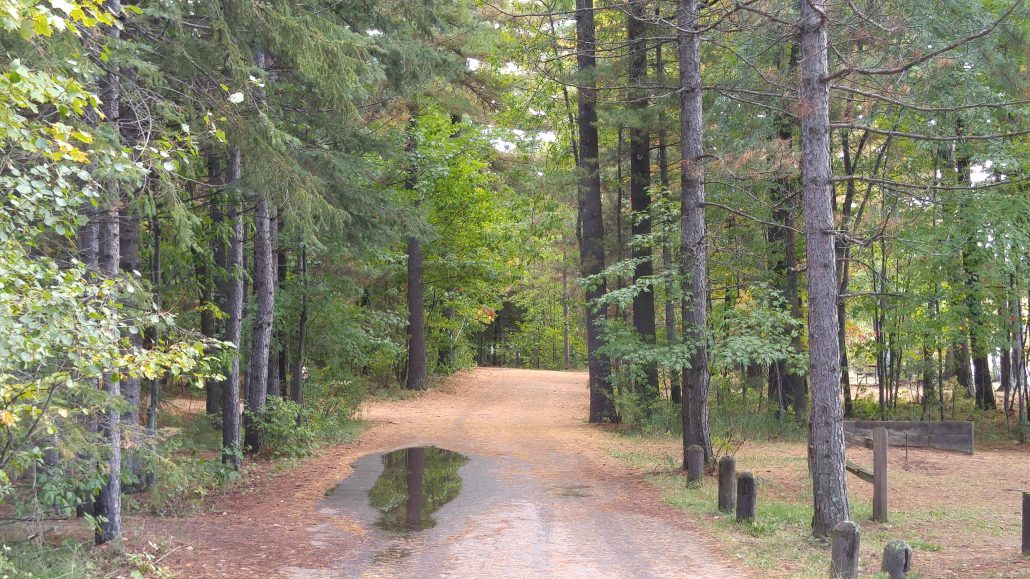 Thank you so much Schlemazel, do send us more when you can.
Travel safely everybody, and do share some stories in the comments, even if you're joining the conversation late. Many folks confide that they go back and read old threads, one reason these are available on the Quick Links menu.
One again, to submit pictures: Use the Form or Send an Email