So this week we (again, royal we) finished the walls on the basement stairs- a little mud on some walls, a sheet of drywall on another, then sanding, paint, and hanging corkboard, and now I have a place to hang my pots and pans.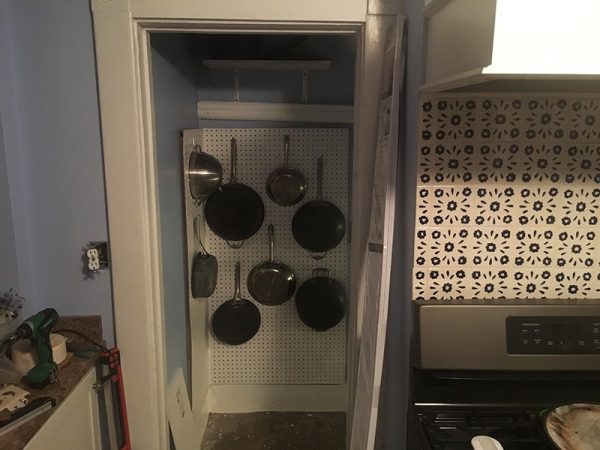 That one board in between the shelf and the pots has got to go because it is making me dizzy and setting off my OCD it is so crooked. At any rate, it all looked like this to begin with (this is if you turn the corner and the pots and pans are to your left as you look down the stairs: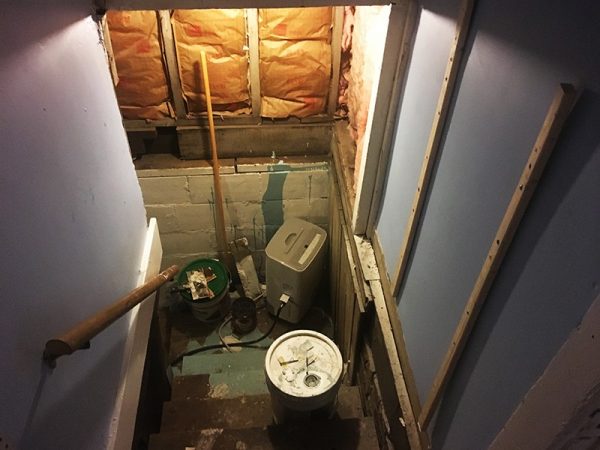 Now the problem is the door. I wanted to replace it with a folding door, but the problem is everything is so damned crooked that there is like a three inch gap on one side at the bottom. Because I do not have the loot, I am just putting up an accordion door for now. Once I seal off the basement at the bottom of the steps (which will be next year because I need to put all new steps in and that costs $$$), I am thinking maybe a saloon style door. So for now, a 25 dollar vinyl accordion door to keep the basement separated from the house.
At least now I have my stove and counters back.