What an embarrassment:

Curry had already said he wasn't going to the championship celebration at the White House, so Trump's rescinding the invitation was especially stupid and petty. That didn't escape the notice of LeBron James: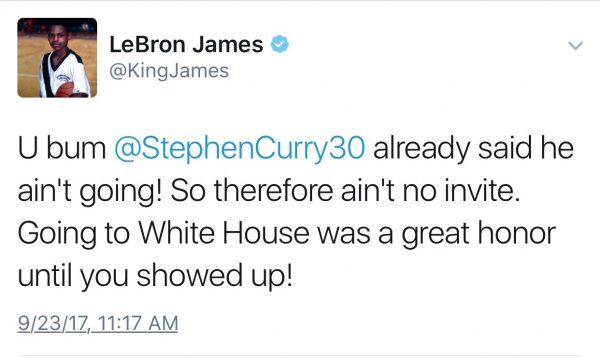 Gonna have to bust out the aloe for that burn. But the shitgibbon keeps right on digging:


Even NFL commissioner Roger Goodell and the NFL ownership group, possibly the most loathesome assemblage of douchebags outside death row or a Trump administration cabinet meeting, politely told Trump to go fuck himself.
The irony is that Trump campaigned on contempt for "political correctness," but he's willing to wipe his fat ass on the U.S. Constitution to establish a safe space for himself and the "fuck your feelings" crowd.
Fuck him and every single shithead who voted for him.
Open thread.