This is a crappy photo because it was misty out that morning, and I did a lousy job of framing the shot, but any picture with two shorebirds in it can't be all bad: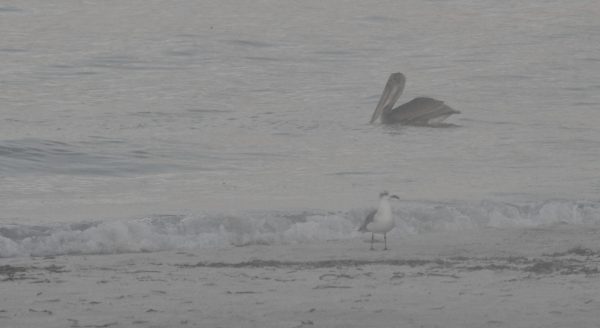 Is the blog acting up on y'all, or is it just me? I've had trouble getting to the site (fails to load), and the back-end is FUBAR; I have no confidence whatsoever the photo referenced above will publish. Maybe it's just a wee hours maintenance thing.
Anyway. When this damnable insomnia struck a while ago, I made the mistake of checking the headlines and was thus exposed to Trump's lunatic ravings in Alabama. To sum up, Trump:
– Called on NFL owners to fire (black) players who take a knee during the national anthem
– Suggested that the KKKeebler Elf should get busy locking up Hillary Clinton
– Urged people to vote for Luther Strange primarily so he (Trump) won't get bad press
– Denied Russian interference in the election
– Rambled bizarrely about "the wall" being transparent
Fuck anybody who voted for that buffoon.
Regarding national anthem protests: anyone who gives a shit about the First Amendment should support the right of the players to protest. The orange fart cloud's authoritarian overreach on the issue should trouble us all.
The slack-jawed yokels cheering the shitgibbon on in Alabama have no fucking clue what the First Amendment is for; the Constitution is just a bundle of papers they occasionally hump for effect, just as they claim to be Christians while shitting on the poor and enthusiastically supporting a racist, sexist, xenophobic degenerate.
Again, fuck those assholes. But what should non-assholes do, aside from affirming the players' right to engage in peaceful protest? Should white folks of good will take a knee too?