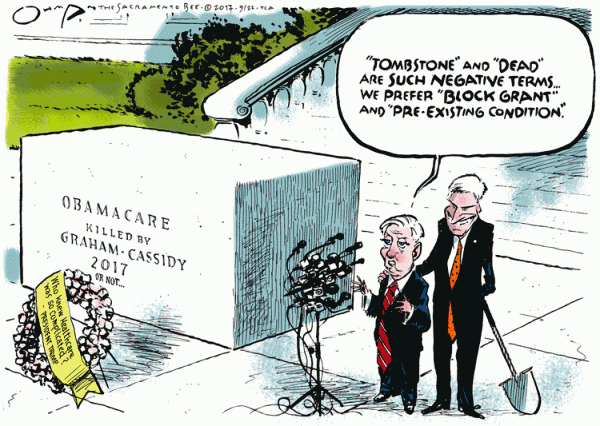 The Senate Finance Cmte hearing on Graham-Cassidy is still on for Monday, now starting at 2 p.m.

Here are the witnesses, per @OrrinHatch. pic.twitter.com/Yucj08KANT

— Sahil Kapur (@sahilkapur) September 23, 2017
Per the Washington Post:
The Republican senators at the forefront of the latest effort to undo the Affordable Care Act plan to release a revised version of their bill Monday sending more health-care dollars to the states of key holdouts, as hardening resistance from several GOP senators left their proposal on the verge of collapse.

According to a summary obtained by The Washington Post, Sens. Bill Cassidy (R-La.) and Lindsey O. Graham (R-S.C.) will propose giving Alaska and Maine more funding than initially offered. Those states are represented by Republican Sens. Lisa Murkowski (Alaska) and Susan Collins (Maine), who have expressed concerns about the bill but have yet to say how they would vote…

The plan was distributed among Republicans late Sunday, with party leaders just one "no" vote away from defeat and as Republican senators from across the political spectrum were distancing themselves from the prior draft…

Although the CBO plans to release a "preliminary assessment" early this week, officials there have said they will not be able to provide estimates of how Cassidy-Graham would affect insurance premiums or the number of people with coverage "for at least several weeks." Trump and McConnell are trying to bring the bill to a vote by the end of this week to take advantage of a procedural rule allowing the plan to pass with just 51 votes.

It remained far from clear Sunday that they could get close to that number…
KEY: Grassidy 2.0 is health insurance for healthy ppl, boondoggle 4 red states, robs Medicaid, and won't be properly scored. A disgrace. 15/

— Andy Slavitt (@ASlavitt) September 25, 2017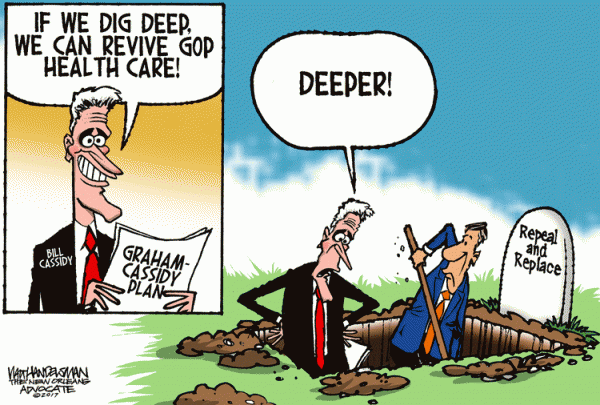 On the other hand, if we can prevent this latest attempt…
! @LindseyGrahamSC on him, RonJohn: "We're not going to vote for a budget resolution that doesn't allow the health care debate to continue."

— Seung Min Kim (@seungminkim) September 24, 2017
hahahahaha Obamacare isn't just not going to be repealed, it's going to sink the GOP tax bill, too https://t.co/3urxjJcezB

— Josh Barro (@jbarro) September 24, 2017
***********
Apart from the Repubs' never-ending efforts to make everybody elses' lives worse, what's on the agenda as we start a fresh week?