Via @RobertMaguire, I saw a Tweet storm from techo-sociologist Zeynep Tufekci that elegantly summarizes how Facebook got played by the alt-right and why social media companies are just as susceptible as old media institutions to "both sides" hogwash. You can find the Twitter thread here, but to spare the blog the pain of waiting for multiple embedded tweets to load, I've rendered it below in paragraph form: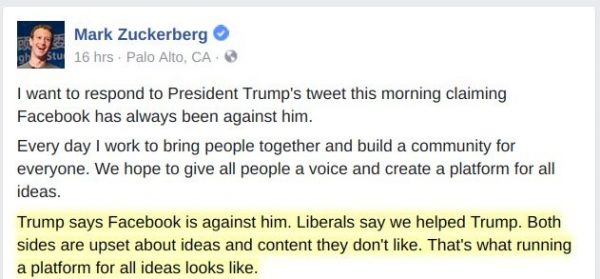 1. If you don't like viral misinfo, fake news & Russian ads—you're just uncomfortable with "ideas".
2. This is what getting played looks like.

First, the idea if you are getting criticized by "both sides", you must be doing something right is nonsense—though touted often by media.

Second, the right/alt-right playbook has been to criticize Facebook (or some institution) baselessly, and then watch it cave to appease.

This happened before the election. Facebook got criticized as being anti alt-right (for minimal quality control) so it dropped even that.

What I see that works on Facebook is intense public pressure—no market competition—or employee discomfort. Right/alt/right does the first.

Through intense public pressure, right/alt-right played Facebook into being passive to deliberate misinfo campaigns before the election.

Expect more of the same, especially as whomever Zuck is listening to is advising him to play the useless & weak media "both sides" playbook.

Point is NOT that Facebook should censor right wing views. Of course not. But it's always been a super helpful platform for Breitbart right.

Facebook has also been super helpful to Trump campaign, working as their competent embedded ad-agency when they were so disorganized.

But the right/alt-right knows the naive, liberal weakness: buckle under tiniest criticism and cave even more. So it keeps hitting. Works.

Facebook, like most trad media, has never managed to grow a backbone—not censorship or bias, but a backbone—and defend ethics & fairness.

Hence Facebook keeps getting played. This is the same distortion/stupidity that made mass media cover both candidates badly before election.

BS "both sides" arguments and getting played and caving when someone flicks a finger: congrats. FB arrives as a traditional media company.
As we discussed the other day, Facebook (and Twitter, Instagram, etc.) let us use their platform at no charge because our eyeballs are the product they sell to advertisers. Zuckerberg's platitudes about building a community and providing a platform for all ideas is a steaming load of horseshit, as is the notion that when "both sides" are angry, the object of their anger has reached a sweet spot of nonpartisan purity.
In addition to being misleading about Facebook's mission and full of crap about "both sides," Zuckerberg is eliding the foreign interference question. That's what liberals are complaining about: not that Facebook helped Trump but rather that their Wild West approach to ad placement allowed a foreign government to perpetrate a PSYOP campaign to swing our election.
I remain convinced that it will take rules such as those that (inadequately) regulate political advertising in traditional media to address the problem of foreign interference, and that's not going to happen as long as a) Republicans are in a position to prevent it, and b) foreign interference redounds to the benefit of Republicans.
In the meantime, it's up to us to work the refs in favor of our side and perhaps to fight fire with fire. Maybe NATO could come to our defense by setting up troll farms in Provence, Frankfurt, Amsterdam, etc., to counter attacks by Russian trolls during our next election. (I'm kidding. I think.)
Open thread!