On the Road is a weekday feature spotlighting reader photo submissions.
From the exotic to the familiar, whether you're traveling or in your own backyard, we would love to see the world through your eyes.
Good Morning All,
This weekday feature is for Juicers who are are on the road, traveling, or just want to share a little bit of their world via stories and pictures. So many of us rise each morning, eager for something beautiful, inspiring, amazing, subtle, of note, and our community delivers – a view into their world, whether they're far away or close to home – pictures with a story, with context, with meaning, sometimes just beauty. By concentrating travel updates and tips here, it's easier for all of us to keep up or find them later.
So please, speak up and share some of your adventures and travel news here, and submit your pictures using our speedy, secure form. You can submit up to 7 pictures at a time, with an overall description and one for each picture.
You can, of course, send an email with pictures if the form gives you trouble, or if you are trying to submit something special, like a zipped archive or a movie. If your pictures are already hosted online, then please email the links with your descriptions.
For each picture, it's best to provide your commenter screenname, description, where it was taken, and date. It's tough to keep everyone's email address and screenname straight, so don't assume that I remember it "from last time". More and more, the first photo before the fold will be from a commenter, so making it easy to locate the screenname when I've found a compelling photo is crucial.
Have a wonderful day, and enjoy the pictures!
So Tom Petty died twice, as it were. I like to think that he saw coverage of the horror in Las Vegas and couldn't take it, having just concluded – successfully! – his final round-up tour. It just took him a while longer to shake loose this mortal coil.
I wish he was still with us, for his music, but also for him – I am a big, huge fan of his XM (known as SiriusXM) Radio program "Tom Petty's Buried Treasure". It's some of the best stuff you'll ever hear, and you'll have lots of laughs learning about some great American (and British! and other!) amazing music.  His knowledge, passion, oddity, heartiness, skill, cockiness, and subtle sensitivity were inspirational.
His radio show offers such a nice alternative to commercial crap it makes you weep, even more so knowing that he won't be back to Rick's Airport Recordings, having once again brought some rare recordings from his personal collection to provide – as he said, "the best rock, rhythm and blues". It is an education, and I recommend it highly.
I just know Tom would wish we'd all roll some great tunes, likely featuring some of the great Lucinda Williams:
I'll be posting one more song/artist Tom turned me on to, tomorrow, but now, onto the pictures!
Today, pictures from valued commenter Mnemosyne:
These were delayed due to technical issues, and for that, my apologies!
One of the things I love about Southern California is the diversity — not just of the people, but of the state itself. I drove 90 minutes one way to go sailing on the ocean on a Saturday, and then drove 90 minutes the next day to go into the mountains.

On board the Californian, which is the official Tall Ship of the state of California. I talked old salt Ruckus into coming with me, and we had a great time.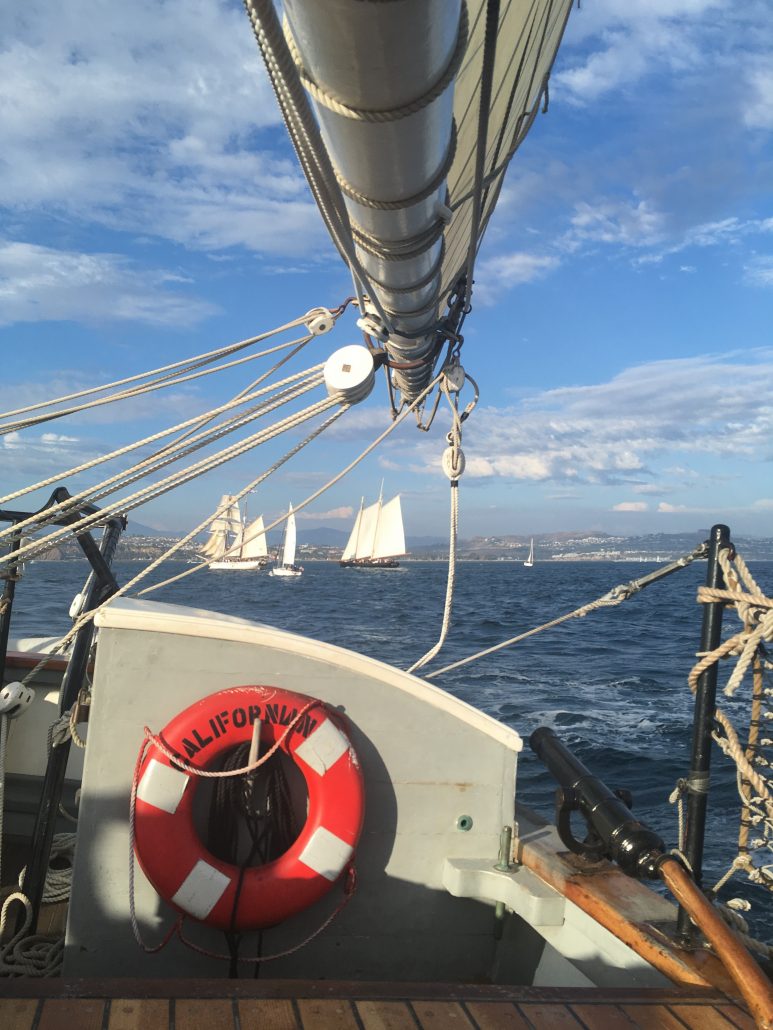 Optical zoom on the other ships that were out for the cannon battle — I think there were about 6 in total.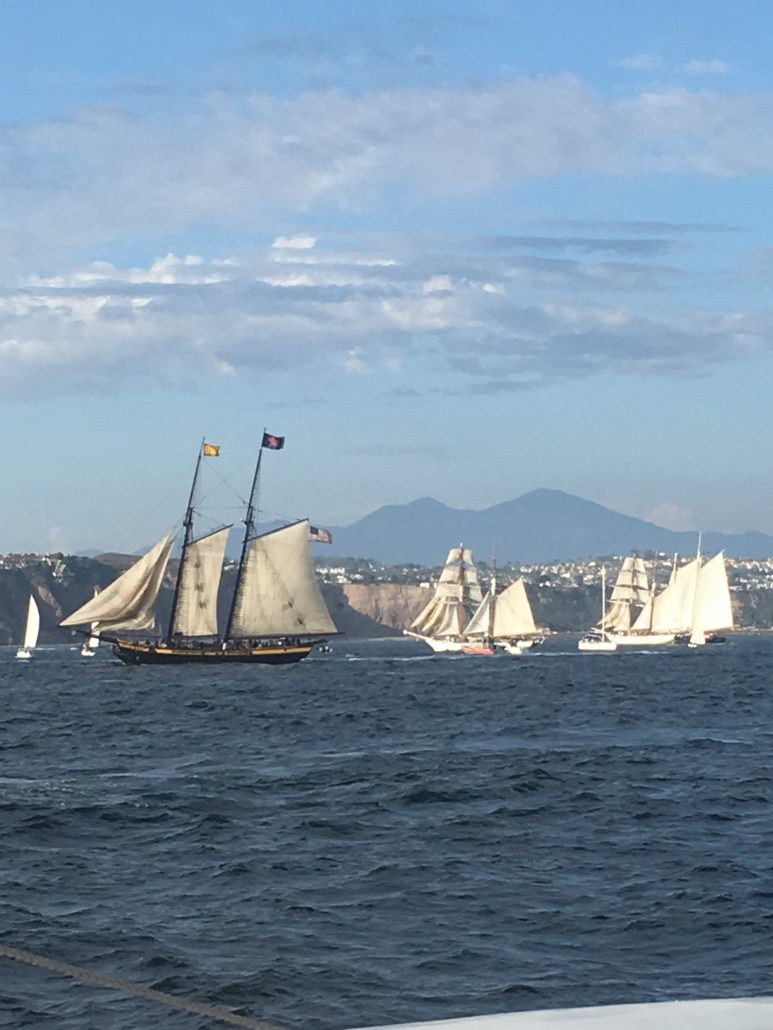 Rigging, from the back (aft?) of the ship.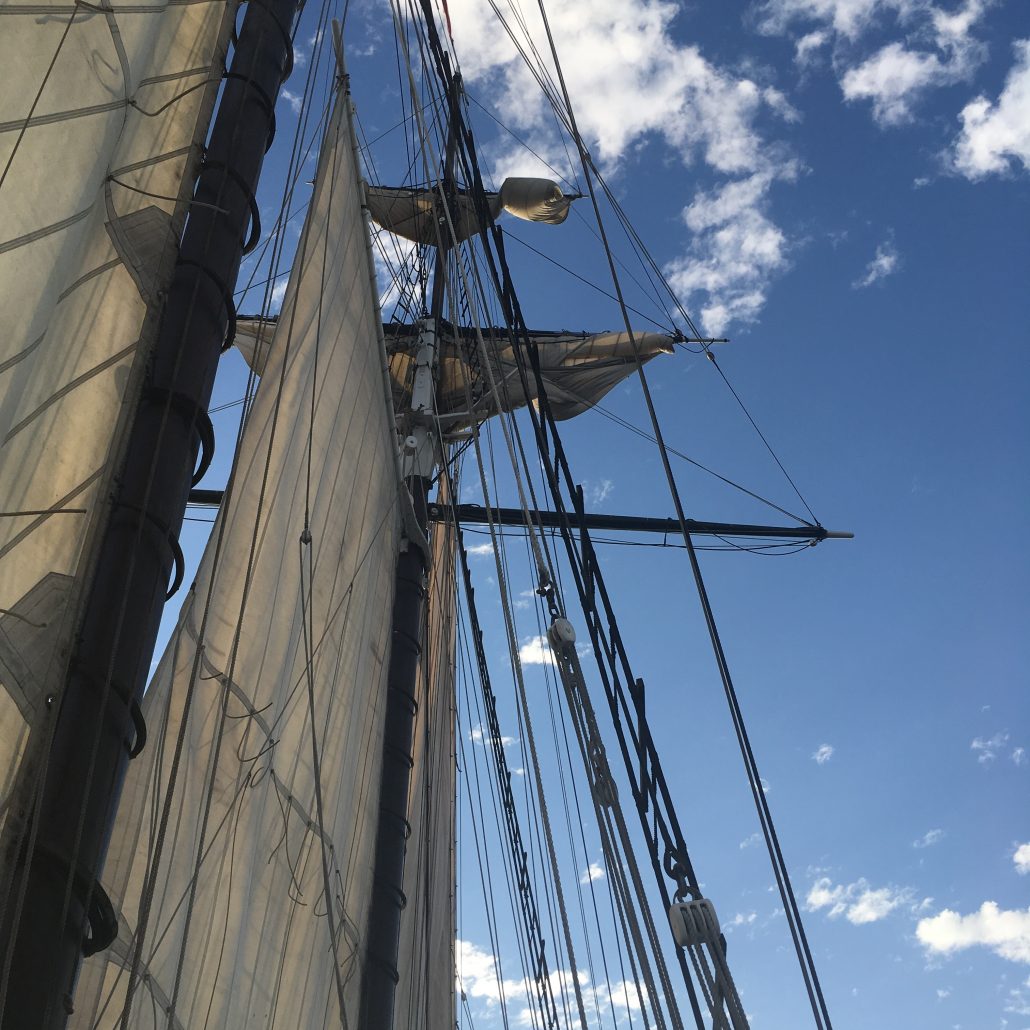 The very next day, driving up to Lake Arrowhead. These are the San Bernardino Mountains, just north of the same-named city.
I swear this same shot is in the first episode of Columbo, with the glorious Jack Cassidy, and directed by one Stephen Spielberg. (Pedants – I know there were previous movies-of-the-week before it became a series, but this was the first Episode!) Just gorgeous!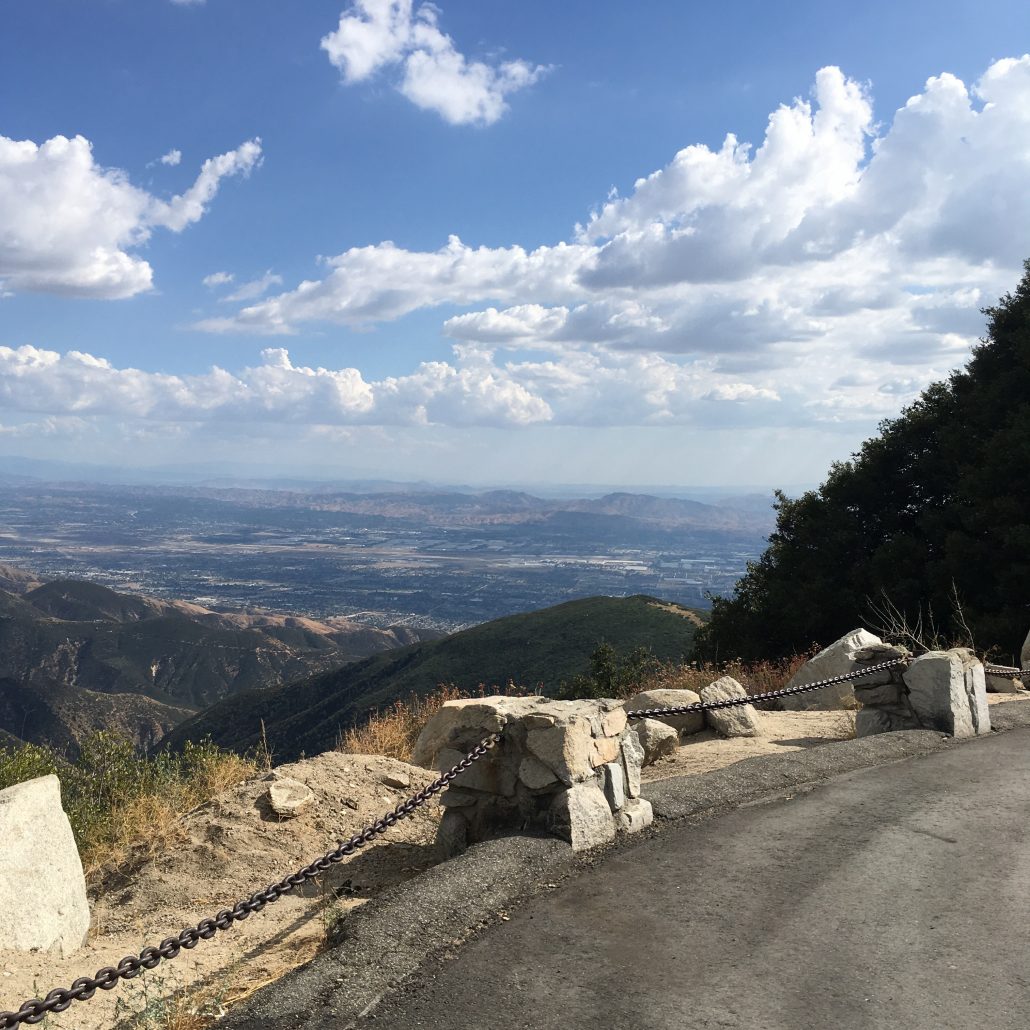 View from the Zen Deck — it was a fairly steep hike, but on well-maintained trails. There are comfy armchairs and a loveseat behind me that I sat in with my laptop to write. That's Lake Arrowhead between the trees, with clouds rolling over the mountaintop.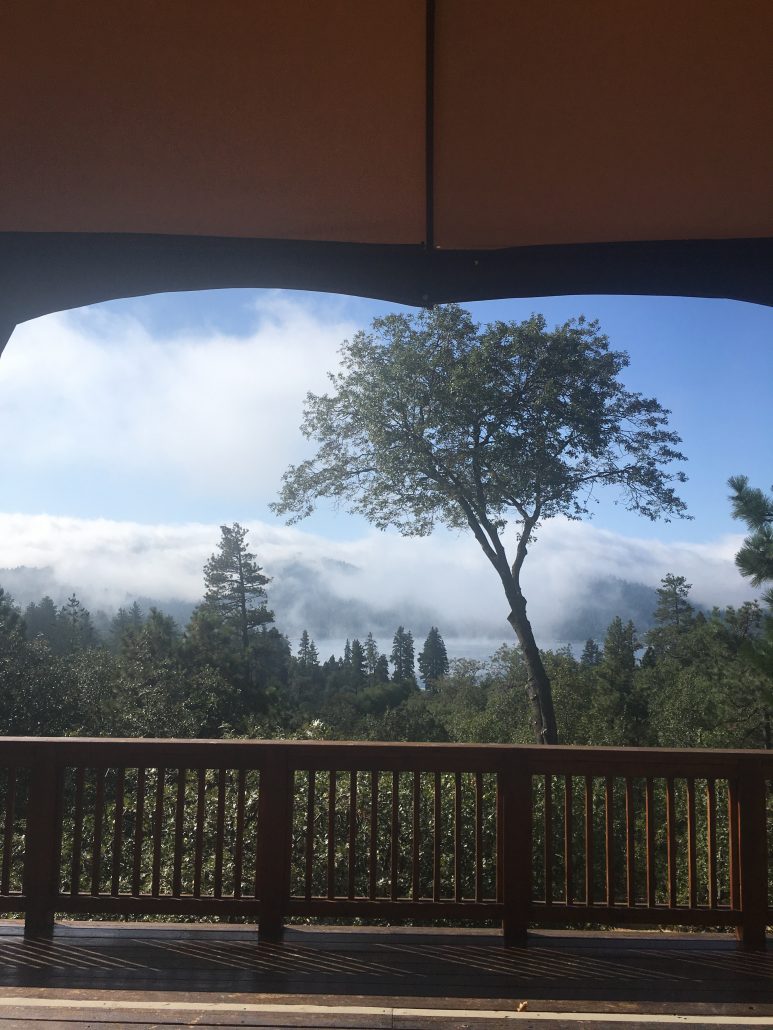 The footbridge where I turned around and discovered a bobcat following me. I was too freaked out to get my camera out.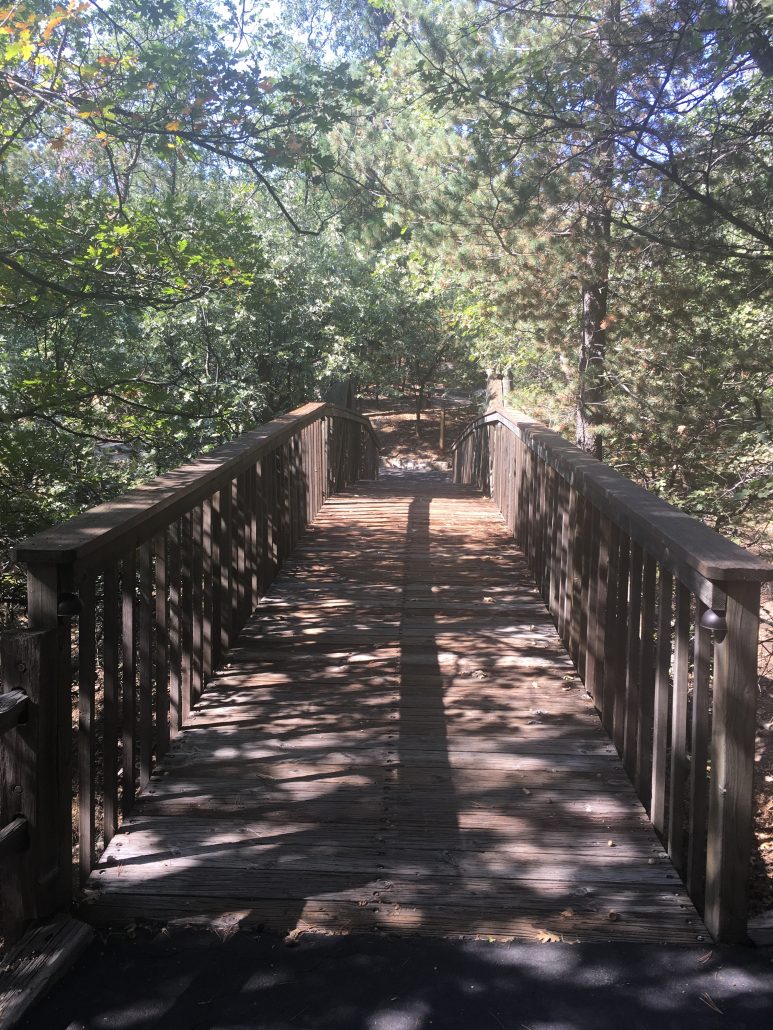 My other favorite writing spot — at the firepit in front of the Main Lodge. If you ever have a chance to have a conference at UCLA's Lake Arrowhead facility, I highly recommend it — great facility and terrific service.
I had hoped to see the famous firepit, and my imagination didn't do it justice. Just…wow!
Thank you so much Mnemosyne, do send us more when you can.
Travel safely everybody, and do share some stories in the comments, even if you're joining the conversation late. Many folks confide that they go back and read old threads, one reason these are available on the Quick Links menu.
One again, to submit pictures: Use the Form or Send an Email