Hannah Eichner (someone you should follow on Twitter by the way) makes the critical point about my post on low risk individuals in  underwritten plans.  They are great only if very little happens:
Except the low-risk in skinny plans are only better off if they stay healthy – we'll see horror stories of inadequate coverage like pre-ACA! https://t.co/35TcZ1JJ8V

— Hannah Eichner (@HannahEichner) October 10, 2017
I completely agree.
The retrospective outcomes will look something like the following picture: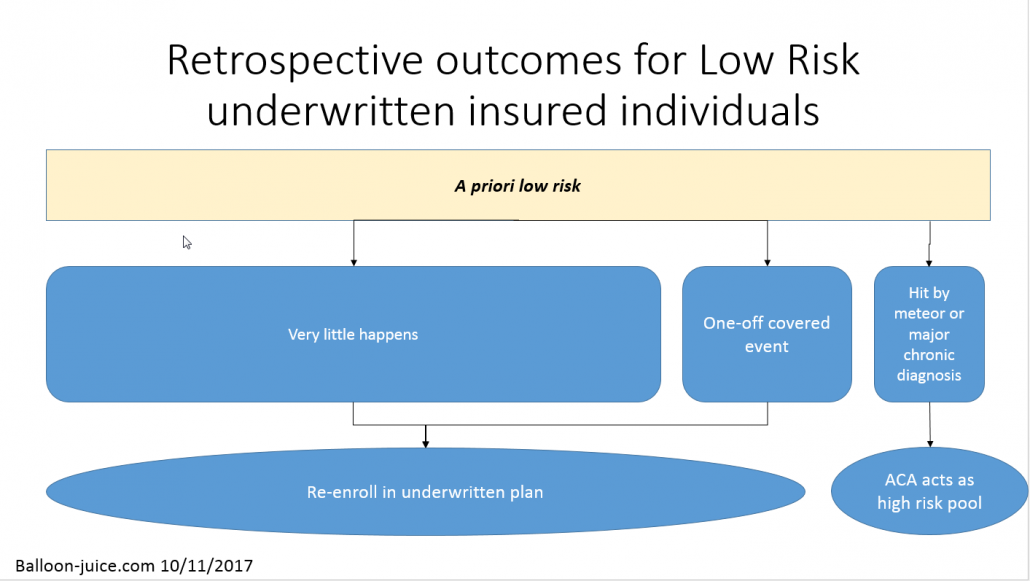 Most people won't have much happening to them medically speaking.  The bottom 50% of the population spends 3% of all healthcare dollars.  That is a PCP appointment, an urgent care visit, a few generic pills and a flu shot utilization pattern.  If the health insurers' actuaries are awake, they can screen so that most of the pool will have this utilization pattern.  Some people will get hit by a bus, some people will break a leg, some people will have one off bad luck that creates a spike in claims that quickly fades.
Even within a well-screened pool, someone will a major catastrophic event that either is not covered or will lead them to be underwritten out of the pool at the end of the policy year.  These are the people who Hannah is correctly identifying as the people who will be hurt in an underwritten system.
I think the critical question is choosing the right baseline.  Against current law, the danger and utility loss is high for this subgroup, but against 2009 pre-ACA, the existence of the ACA Exchanges in a split pool environment that works as a quasi-high cost risk pool with adequate funding for people who earn between 100% and 400% Federal Poverty Line, the safety net is far better.