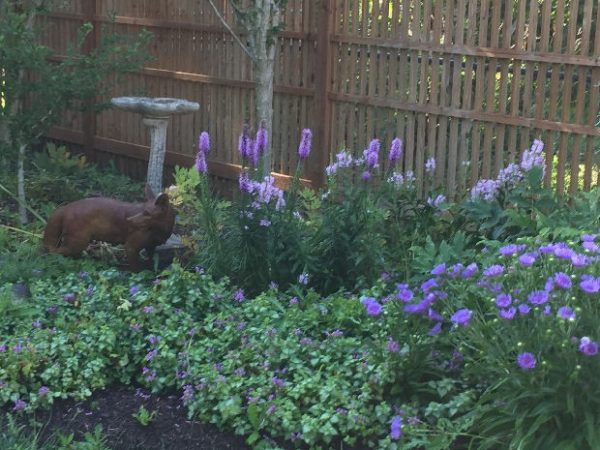 From determined commentor Watergirl:
I really didn't plan this other corner to be all purple, but I see that I have at least 4 different plants with various shades of purple in the other corner where the fox lives. Pretty sure you can tell that it's not a real fox, but I fell in love with the fox and just had to have him.

I'm not a very good photographer, so I usually send close-ups. I mean, who can screw up a close-up shot of a beautiful flower? Not sure how successful I was, but this time I tried to get a bigger picture view. For next time, I will try again to use the panorama view on camera. Maybe third time's the charm?…

Here are a couple of different views from the back porch I had built last year. As I said, not a great photographer. I was so busy trying to catch the view of the yard that I looked past the towel on the chair. (Can we just pretend that the towel isn't there?) In any case, I am loving my porch!

I tried to catch a picture of some of the flowers along the back fence, and even got one that might give you some sense of what it looks like at night with the fence lights on…
Last up is my front porch. Try as I might – and I took over a dozen photos – I just couldn't manage to capture my front porch. Every plant but one comes in over the winter. As you can see, I don't have a very big house, so it gets to be a challenge – especially when the Christmas Tree is up! But it's worth it to have some green inside during the winter and instant happy on the porch come spring.

The pink flowers you see on the left edge are dahlias. I don't have a garage but a friend keeps the bag of bulbs for me in her garage all winter. I put them in the pot in the spring and up they come! The next 3 that you can see are my tropical hibiscus – peach, red and yellow. Next is the red dragon wing begonia. Next to that are two monsteras that I grew from tiny little things. (You can only see one in the photo.) They got crushed when the tree fell 4 years ago and I had to cut them back to a single leaf each, but they are doing just fine!

I have an idea for a garden chat sort of thing we could maybe think about for the winter months. I would love to be able to submit photos like these and get some tips from our BJ photographers on how to do a better job of capturing the bigger picture in garden photos. Maybe a one-a-month photography clinic, kind of like we have the monthly writer's chats?

[More to come — those promised close-ups! — next week]
I like the idea of a 'photography clinic', but you'd have to be patient: Since I'm not around when the Garden Chat goes up on the front page (my 'normal' sleep cycle is 6am-2pm), any "Get Anne Laurie to give you my email"-type comments wouldn't get forwarded until Sunday afternoon/evening. But we do have some excellent garden photographers here!
What's going on in your garden(s) this week?