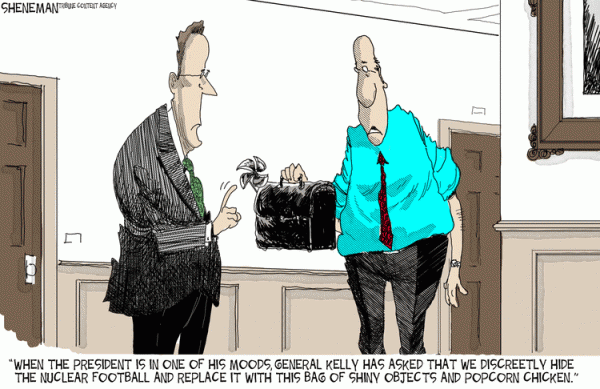 Jose Andrés & his chefs have served 1M meals in Puerto Rico, & vowed to stay till the island's recovered https://t.co/pQNZrIyDlN @timcarman

— Juliet Eilperin (@eilperin) October 18, 2017
Great honor to Chef Andrés, but "recovery" for Puerto Rico may be elusive. And as someone who grew up with tales of the Great Famine and its aftermath as part of my childhood, I don't think the depopulation of Puerto Rico would turn out to be the kind of "win" some parts of the GOP are hoping for, however many poor brown people can be made to suffer.
From the Washington Post, "'Shrinking, shrinking, shrinking': Puerto Rico faces a demographic disaster":
… During the decade before Maria, economic decline and depopulation, a slower-moving catastrophe, had been taking a staggering toll: The number of residents had plunged by 11 percent, the economy had shrunk by 15 percent, and the government had become unable to pay its bills.

It already ranked among the worst cycles of economic decline and depopulation in postwar American history, and projections indicated that the island's slide could continue for years.

Then came Maria.

Now, even as officials in Washington and Puerto Rico undertake the recovery, residents are expected to leave en masse, fueling more economic decline and potentially accelerating a vicious cycle.

"We are watching a real live demographic and population collapse on a monumental scale," according to Lyman Stone, an independent migration researcher and economist at the Agriculture Department. The hurricane hit "might just be the kick in the pants Puerto Rico needs to really fall off this demographic cliff into total epochal-level demographic disaster."

Whatever happens with Puerto Rico, moreover, will have far-reaching effects, because while the disaster is felt most keenly on the island, the accelerated exodus is already being felt on the mainland.

Cities popular with Puerto Ricans, such as Orlando, Hartford, Conn., and Springfield Mass., are bracing for more students, many of whom come from families living below the poverty level.

Politicians, meanwhile, are weighing the potentially significant electoral consequences of a wave of migrants expected to lean Democratic — especially in Florida. The swing state already boasts half a million Puerto Rican-born residents, and more are expected in Maria's aftermath….

Like many on the island, Sergio M. Marxuach, policy director for the Center for a New Economy, a San Juan-based think tank, said a massive federal investment is necessary.

"We're going to need some significant government intervention — essentially a big rescue package, not only to rebuild the economy but get it growing," he said. "People are saying, 'I don't want my children to grow up in a place where the economy is going to be devastated for the next 10 years.' If enough people think that way, it's going to be a self-reinforcing downward spiral."…
I'd just as lief find a less human-cost-intensive way to flip Florida Democratic, thank you.