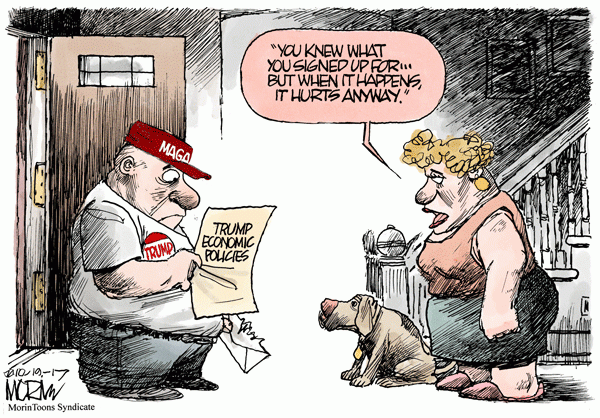 Per the NYTimes, "Still Waiting for FEMA in Texas and Florida After Hurricanes":
…Outside the White House this month, President Trump boasted about the federal relief efforts. "In Texas and in Florida, we get an A-plus," he said. FEMA officials say that they are successfully dealing with enormous challenges posed by an onslaught of closely spaced disasters, unlike anything the agency has seen in years. But on the ground, flooded residents and local officials have a far more critical view.

According to interviews with dozens of storm victims, one of the busiest hurricane seasons in years has overwhelmed federal disaster officials. As a result, the government's response in the two biggest affected states — Texas and Florida — has been scattershot: effective in dealing with immediate needs, but unreliable and at times inadequate in handling the aftermath, as thousands of people face unusually long delays in getting basic disaster assistance.

FEMA has taken weeks to inspect damaged homes and apartments, delaying flood victims' attempts to rebuild their lives and properties. People who call the agency's help line at 1-800-621-FEMA have waited on hold for two, three or four hours before they even speak to a FEMA representative.

Nearly two months after Hurricane Harvey made landfall in Texas on Aug. 25, and six weeks after Hurricane Irma hit Florida on Sept. 10, residents are still waiting for FEMA payments, still fuming after the agency denied their applications for assistance and still trying to resolve glitches and disputes that have slowed and complicated their ability to receive federal aid…
In the Washington Post, "Many Trump voters who got hurricane relief in Texas aren't sure Puerto Ricans should":
… "He really made me mad," said Maddox, 70, who accused Trump of trying to pit those on the mainland against Puerto Ricans, even though they're all Americans.

"I don't know," said her husband, Fred Maddox, 75. "I think he's trying."

He continued: "It's a problem, but they need to handle it. It shouldn't be up to us, really. I don't think so. They're sitting back, they're taking the money, they're taking a little under the table. He's trying to wake them up: Do your job. Be responsible."

The divide in the Maddox household is one playing out across the country, as those who voted for the president debate how much support the federal government should give Puerto Rico, a U.S. territory without a voting member of Congress that is not allowed to vote in presidential elections…

A survey released last week by the Kaiser Family Foundation found that a majority of Americans believe that the federal government has been too slow to respond in Puerto Rico and that the island still isn't getting the help it needs. But the results largely broke along party lines: While nearly three-quarters of Democrats said the federal government isn't doing enough, almost three-quarters of Republicans said it is…
A cynic might wonder if Trump and his enablers want you to be fighting over scraps while his cronies loot the treasury.
Jeb Lund, in the Daily Beast:
… Until now, America has been willing only to let the quiet calamities fester and infect and degrade, often with far more lethality, injury and contempt for cost than overnight disasters. Look to the Superfund site upstream or the refreshing orange electric-goo creeks of coal country. Or look to the drinking water of Flint, Michigan, which began poisoning its people in April 2014 and "became a crisis" in September 2015.

But the big ticket stuff—the telegenic suffering of real civilizational collapse that pops on camera next to the yellow of Anderson Cooper's slicker and the stark green camo of a Humvee—well, that we still gave a damn enough to handle.

But maybe the big lesson of the Bush Administration's bungling of Hurricane Katrina wasn't that government always has to show up but rather that there is a constituency out there that no longer cares if the really visually sickening catastrophe goes not just ignored but worsened. That there is a tiered system—maybe even color-coded—of which citizens need rescuing. That there's a virtue to cutting out the deadwood by salutary neglect. That a penny saved is a penny earned toward rescuing more critical voters. That we have to destroy the island to monetize it. That each new disaster is a chance to discover whether a new precedent of designating an expendable citizenry starts with you…
Trump said again this week that the devastating hurricanes are examples of why America needs tax cuts. pic.twitter.com/aohLSjxzKT

— Daniel Dale (@ddale8) October 22, 2017