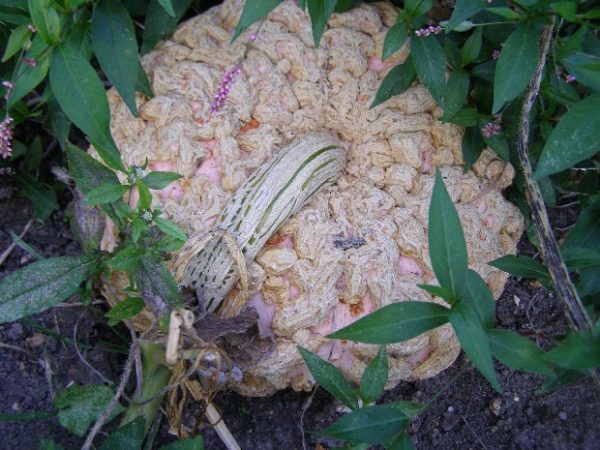 .
Halloween special, from master gardener / photographer Ozark Hillbilly:
This is a Galeux d' Eysines squash, a French type they favor for soups but I dearly love for its oh-so-sweet flesh. They say the more warts it has the sweeter it is. I use it a lot for baking.
.


.

I love growing winter squash. In the spring one makes the mounds, amends them with plenty of compost and some fertilizer in the center, put 2 or 3 seeds in each mound, and then forget about them. By midsummer their foliage is so thick I can't see the ground or what is growing down there. At least until the plants start dying back, usually late August/early September for me. And then I get to see what gustatory treasures await me.


.

The big blue squash is a Jarrahdale and the 2 oblong ones on top are Delicatas.


.

It was a while before I spotted this Winter Luxury Pie Pumpkin hanging on my bean trellis.


.

Got to brag to the postman. L to R, Galeux, Winter Luxury, Jarrahdale, Kamo Kamo, Winter Luxury, and 3 Sweet Dumplings. Not pictured are the Delicatas and the Flat White Boer pumpkin.


.

A Strawflower, just because.
***********
What's going on in your gardens, this week?