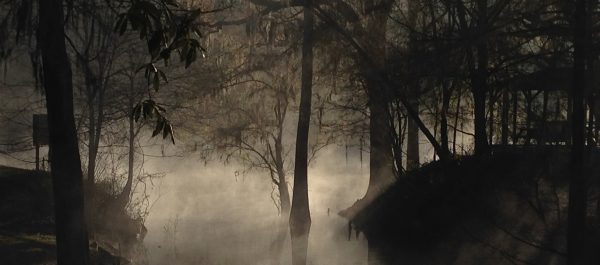 Plenty of other sites feature reader-submitted scary stories on Halloween, but we've proved in the past that ours are better. Can we do it again this year? Maybe!
I shared my only firsthand ghost story a couple of years ago, but I have one from my mom to tell.
Mom went to high school in Inverness, Florida in the 1960s. Inverness is so-named because it's somewhat hilly for Florida, and the countryside is dotted with lovely lakes that supposedly inspired a homesick Scotsman to give the town its name.
Mom said there wasn't much to do in town for high school kids back in the JFK era. There was one malt shop ("the Creamette," it was called) that they frequented under the watchful eyes of adults.
Aside from that, boat launches along the lakes were popular places to park and hang out after dark. Mom told us kids back then would find a place to park, listen to their car radios, smoke cigarettes and sip liquor stolen from their parents. (Pretty much the same shit their kids would do in the 1980s, in other words.)
Anyhoo, the ghostly encounter I'm about to describe concerns one of my mom's high school friends, who had died in a mysterious boating accident. Mom's friend had drowned in a lake while out boating with her mother and stepfather.
It was considered mysterious because my mom's friend was a strong swimmer, and the lake where the accident occurred was shallow enough that you could stand up almost anywhere in it and walk to shore if your boat capsized or you fell out. Also, there was a lot of turmoil in that family, which made people suspicious. It was and is a small town.
So, many months after the accident, a carload of high school girls, my mom among them, pulled into the parking lot adjacent to a boat ramp. They had stolen someone's dad's bottle of Old Crow and were drinking that mixed with Cokes, smoking Pall Malls and listening to "Johnny Angel" on the radio.
It was a foggy night with no moon. A distant street light at the far end of the parking lot provided the only illumination. Mom said they had briefly discussed the friend they'd lost upon arriving at the lake where the boating accident happened, but the conversation soon turned to other things.
Mom said she was engaged in conversation with a friend who was sitting on the hood of the car, laughing about something, when the friend suddenly stopped laughing, looked horrified and pointed with her cigarette toward the lake.
All turned and saw their dead friend standing right where the shadows cast by the lakeside trees gave way to the dim light of the streetlamp. Mom said the apparition looked just as real to them at that moment as their friend had in life, and she was trying to say something.
Mom vividly remembered that their friend was gesturing with her hands, and her lips were moving. But whatever she said was lost in the din of the girls' screams.
They piled into the car and roared off into the night, leaving their bottle of Old Crow behind. No one had the nerve to go back and retrieve it until the sun came up. They swore they'd never park by that lake at night again.
When repeating this tale, Mom always told us she regretted that terror had stopped her and her companions from listening to what their dead friend was trying to say. Maybe she was going to tell them what had happened to her — that her stepfather had killed her or something. But they never saw her again.
So, did they really see a ghost? I don't think so. They were half-drunk teenagers and susceptible to the power of suggestion. But they believed they did, for the rest of their lives. And though I don't believe in ghosts, I'm not sure I'd have the courage to stake out that lakeside parking lot, play "Johnny Angel" and look toward the lake on a moonless night.
The End.
Now it's your turn!