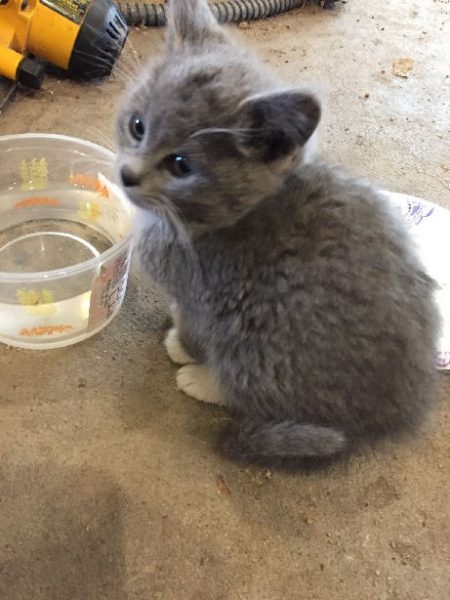 From commentor Newdealfarmgrrrll:
Last week my nephew found a kitten outside their detached garage, and by the end of my brother's frantic phone call, four more appeared. And the next day, the mom, which my brother lured into the garage with the kittens.

I think the poor sweeties were dumped, as the mom doesn't seem feral, and is desperately affectionate. All the no-kill animal shelters in the Minneapolis/StPaul metro are full and not accepting animals.

My brother and I are both maxed with pets and can't take them on. My brother lives in the boonies, and they will be lunch for coyotes if they stay outside :(

The little gray cutie (top pic) is the bravest of the bunch, and was instantly out of the box to meet us. And, IIRC, was the first one to be discovered, hungrily mewing near the garage.

Mom is TINY. As you can see, she is a tabby, and has a lovely large orange splash on top of her head which doesn't show all that well in the pic. She was desperately affectionate, and has been using the litter box, except for occasionally piddling in the middle of the floor. This adds to my suspicion that she is a frightened and distressed cat who was dumped by her dipshit humans.

The other kittens were very shy and huddled inside the enclosed box my nephew and brother cobbled together. Isn't "Patchie" adorable? *muffles a SQEEE* There are two more gray kittens as well as the ginger. I didn't want to stress them further by dragging them out of their box for pics.

Little ginger decided to come out and explore! Well, hearing the rattle of the kibble jar was what lured him out at first.

I'm in the Twin Cities (Minneapolis/St.Paul MN) outer metro area. I have several extra cat carriers so I could ferry cats to my place for pick up as I'm right on the freeway system on the western side of Minneapolis. My brother is in the boonies on the east side of the Cities.
Three years ago Easter, we acquire a Balloon Juice rescue kitten who looked a lot like that little gray muffin, after he walked up to Hillary R's little dog and introduced himself. Piper is now a magnificent 15lb gentleman of great dignity, with the softest plush fur…
If you are interested in adding one of these sweeties to your household, know someone who might be interested, or have other suggestions, please leave a comment. Or contact me at [email protected], and I'll forward your message to NDFG.