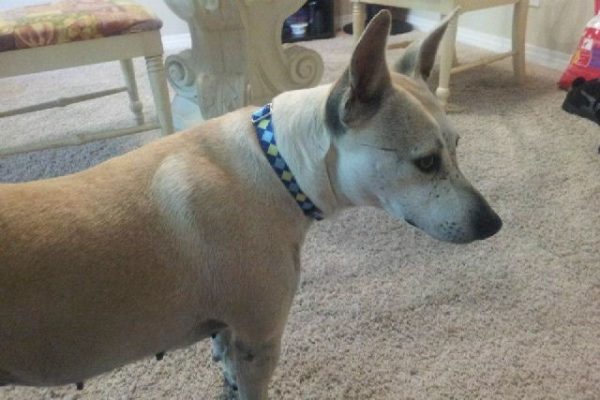 From commentor Davey C:
I'm a frequent lurker and an occasional Balloon Juice commenter. In the comments of the post about the loss of Tamara's dog I mentioned that I also lost my dog, Heidi, this week. Somebody suggested that I reach out to you with a bit of information about Heidi and, possibly, a pic. Given that I'm not a prolific commenter and am thus not known to many, I'm not sure if this is an appropriate thing to do or not, but I figured I would give it a shot.

I adopted Heidi a little over 5 years ago from a rescue agency in Southern California. She was found living in the streets of suburban California. She had a litter of pups before I ever met her, and judging by the scars all over her body–especially her face–it seems clear that she lived a rough life before being rescued.

She was a strong-willed, brave, and wonderfully intelligent dog. She once managed to open a sliding glass door and jump/climb to the ground from a second-story balcony with no injuries whatsoever! I never discovered how she actually did that.

Another time, I had to board her for a couple days, and she managed to escape from her crate, open the door to the lobby, after which she proceeded to eat every dog treat in sight! I like to think that she did boarding agency a favor by discovering flaws in their security. They seemed to think so too, since they didn't charge me for the mess she made!

Heidi was reticent around new dogs, but eventually made many good canine friends. She was wonderful around people–friendly, affectionate, and cuddly. Everyone who knew her loved her. She was a wonderful companion for me, and a better friend than I could possibly have hoped for when I adopted her. I feel incredibly privileged to know that although her early life must have been very difficult, I was able to provide her with a safe and loving home. I miss her more than I can put in words.