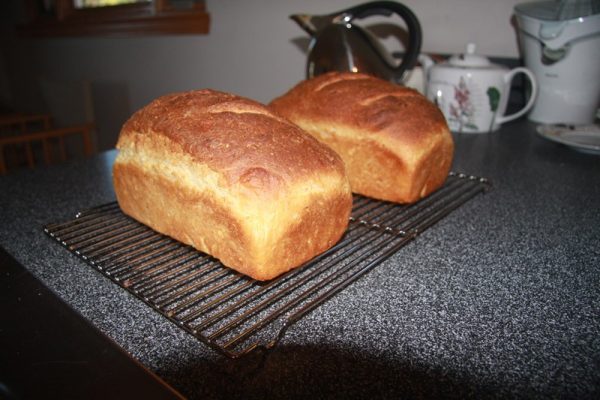 There was a complaint that there haven't been enough recipes lately, so here is one of my faves. I developed it from a much older recipe that made four loaves, two white, one carrot-raisin, and one molasses spice. Four is far too many for me, so I cut it in half and then experimented with various whole-grain additions. I make this all the time. It's easy and almost foolproof. The loaves in the pic are made with cornmeal.
You need a bit of experience with yeast breads to be able to work out my sketchy instructions. If you want to use whole wheat flour, I recommend no more than two cups in place of white flour.
Combine in a mixing bowl 2 cups of flour and 1 tbsp. of dry yeast. If you use whole wheat flour, it should be now.
Combine in a saucepan:
1 cup whole grain (cornmeal, oatmeal, bulgur wheat, whatever)
1 cup milk
2 tbsp. sweetener (sugar, honey, molasses, whatever)
2 tbsp. butter
2 tsp. salt
and heat, with stirring, until the mixture comes to a boil and thickens. Add 1-1/2 cup cool water and add to the flour – yeast mixture. Beat until smooth. Add flour until the dough is ready to knead, about 2-4 cups.
Knead until the dough is springy. Allow to rise until doubled, punch down and allow to rise until doubled again. Split into two and form into loaves in loaf pans. Allow to rise and bake 40 minutes in a 400 F oven. Turn out on a cooling rack.