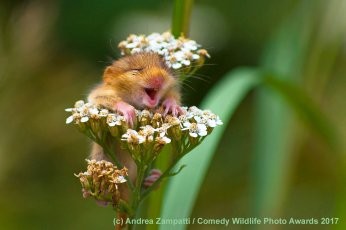 Your daily moment of Zen, many thanks to commentor Lahke. Check out the whole Comedy Wildlife Finalists 2017 page — lots of good pics, but this is definitely my favorite!
Apart from appreciating every morning, what's on the agenda for the day?
***********
Also well worth a look (it won't be out in time for this year-end's gift-giving, but maybe you know a young person or an old crank whose name deserves to be included):
Kids should know the story of a president who represented the best of us—and how they can follow his example to make change.

"Our President Was Called Barack: A Book for Kids" is available for a limited time on Kickstarter:https://t.co/Y8jle9FV7J pic.twitter.com/sHlxUaalgC

— BarackBook (@BarackBook) November 12, 2017

.
And for those of us cynics who prefer to start our mornings with a nice piece liverwurst and a big swig of Clamato…
New GOP message to AL voters: Go ahead and vote for the alleged child molester w a clear conscience. We'll make sure he doesn't serve. We promise.

— Chris Hayes (@chrislhayes) November 13, 2017
From Moore's perspective, why drop out? What's in it for him?

He's been booted from the AL Supreme Court TWICE already.

He is un-shameable.

— Dan Lavoie (@djlavoie) November 14, 2017
NYT: One idea now being discussed, brought up by two W.H. officials, would be for AL Gov. Kay Ivey to block Roy Moore if he wins, and then immediately appoint Jeff Sessions. https://t.co/wluorqpgLt

— Kyle Griffin (@kylegriffin1) November 13, 2017
Is there any reason we should assume Sessions would agree to any of this?

— Dana Houle (@DanaHoule) November 13, 2017
Alabama GOP Sen. Richard Shelby on a potential write-in candidate: "A strong one would be Sen. Sessions."

— Emma Loop (@LoopEmma) November 13, 2017
Four days ago I pitched the "Sessions for Senate" thing as a joke, but I keep forgetting that we fell through a wormhole https://t.co/wCB8VMH2iG

— Dave Weigel (@daveweigel) November 13, 2017