As defined by the Gun Violence Archive, a mass shooting is an event where "four or more people are shot or killed in a single incident," not including the shooter. As of yesterday, we've had 317 mass shootings in the U.S. in 2017.
No wonder Trump, likely jacked up on jet-lag and dementia, got mixed up and sent a pro forma mass shooting tweet in which he forgot to substitute the location of yesterday's carnage with the site of last week's semi-automatic atrocity: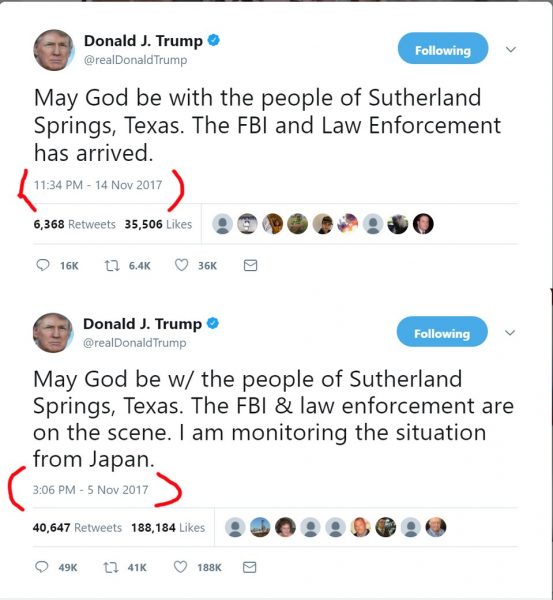 Trump or a minion has since deleted last night's defective "thots-n-prars" tweet without bothering to provide an updated version. Good. Since Trump and his party are captive to the death merchants' lobbying group known as the NRA, their fake concern and piety are an insult to the dead and wounded anyway.
But before the next mass shooting occurs, let's pause for a moment and look at yesterday's rampage, which killed four and wounded ten. Via the AP:
RANCHO TEHAMA RESERVE, Calif. (AP) — The gunman behind a rampage in Northern California was out on bail for a charge of stabbing a neighbor, had been the object of complaints from neighbors who said he had been firing off hundreds of rounds of ammunition, and had been the subject of a domestic violence call the day before the attack.

Yet Kevin Neal was free and able to use a semiautomatic rifle and two handguns Tuesday to shoot 14 people, killing four, in seven different locations across his rural community, including an elementary school, before he died in a shootout with police.

It's not yet clear what the terms of Neal's bail were, and whether he would have been allowed to possess and fire the weapons on his property at the end of a dirt road in Rancho Tehama Reserve. Nor did sheriff's officials give details on the domestic violence call.

But his many contacts with authorities raised questions of why he was out of custody and able to go on the 45-minute rampage that began with the killing of two neighbors in an apparent act of revenge before he went looking for random victims…

Police said surveillance video shows the shooter unsuccessfully trying to enter a nearby elementary school after quick-thinking staff members locked the outside doors and barricaded themselves inside when they heard gunshots.

[Tehama County Assistant Sheriff Phil] Johnston said the gunman spent about six minutes shooting into Rancho Tehama Elementary School before driving off to continue shooting elsewhere. Johnston said one student was shot but is expected to survive.

He said the 45-minute rampage ended when a patrol car rammed the stolen vehicle the shooter was driving and killed him in a shootout.
Can you imagine the terror of the children and adults inside that school, as the madman rained bullets on the building? It's insane and shameful that we allow this situation to continue.