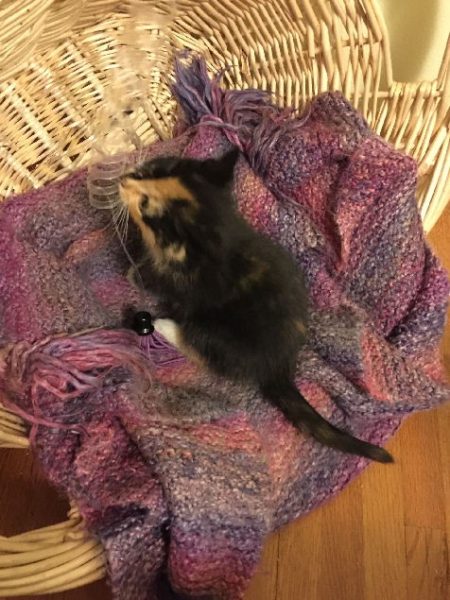 Last of the Minnesota kittens, Miss Callie, is being fostered by NewDealFarmGrrl until she can go to her permanent home with B Lamb in Maryland. Unfortunately, TLC Pet Transport (the people who drove Walter) turns out to be less than optimal (they would charge approximately $1500).
Fortunately, experienced cat-courier Reilyn has stepped up:
The flight I'm thinking of per my last comment on the blog leaves DCA late Friday Dec 8 to MSP, then has a return flight the afternoon/evening of Sunday Dec 10 to DCA.

It's on Sun Country which does not list a minimum age requirement, and as of when I looked at it Sat/Sun was running about 276 bucks for the round trip flight, plus 125 for a one-way pet fee.

I can easily get to DCA on my own on the 8th and fly out and stay w/ my mother; then meet up to retrieve the kitteh on Sat the 9th or the morning of Sunday the 10th and have my mom take me to the airport to make the flight back to DCA, then meet up at DCA to purr-form ;) the exchange….
So — those of you who offered to chip in, this is your time to shine! I'd like to set a target of $500, with the understanding that Reilyn will forward any extra money for pet rescue. Send me an email ('Contact an author' or [email protected] ) and I'll reply with the link to Reilyn's PayPal address.