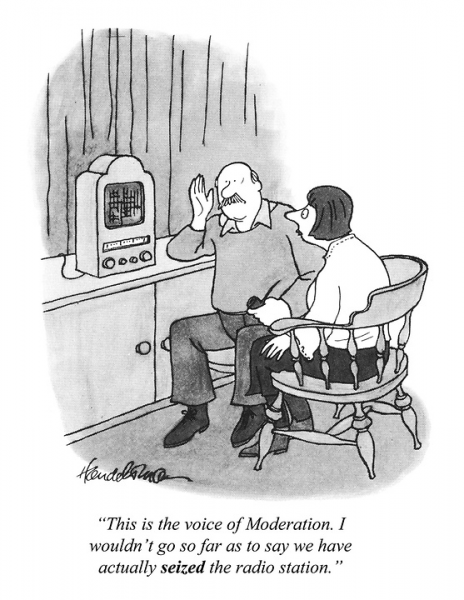 (Punch Cartoon by Bud Handelsman*)
There appears to be a soft coup going on in Zimbabwe. Specifically no shots have been fired and no one has been killed (as far as I can tell from the reporting). There are few if any troops on the street. Mugabe has been confined at home and there is a push to remove his wife from the chain of succession. And the recently ousted Vice President, Emerson Mnangagwa, has returned to Zimbabwe.
One of the ways that you know a coup is happening is:
Subtle indication there may be a coup: your news anchor is suddenly this guy, telling you it's totally not a coup. pic.twitter.com/lKOX5uQGnW

— Carl Fridh Kleberg (@FridhKleberg) November 15, 2017
From The Guardian:
Robert Mugabe remains in detention at his home in Zimbabwe more than 12 hours after the military declared on national television that it had temporarily taken control of the country to "target criminals" around the head of state.

The move by the armed forces appears to have resolved a bitter battle to succeed the 93-year-old president, which had pitted his former vice-president, Emmerson Mnangagwa, against Mugabe's wife, Grace.

Mnangagwa was reported to have returned to Zimbabwe on Tuesday evening from South Africa, where he fled last week after being stripped of his office by Mugabe in an apparent attempt to clear Grace Mugabe's path to power.

The military takeover comes two days after the army chief – flanked by other senior officers – said he was prepared to "step in" to end turmoil in the ruling Zanu-PF party.

It is likely to signal the departure from power of the world's oldest leader within days, weeks or at most months.

One high-profile opposition leader said there was "a lot of talking going on", with the army reaching out to them to discuss the formation of a transitional government after Mugabe steps down.

Negotiations had been ongoing for several months with "certain people within the army", a second senior opposition official said.

The official said Mugabe would resign this week and be replaced by Mnangagwa, with opposition leaders taking posts as vice-president and prime minister. There was no independent confirmation of his claim.
In its other reporting, The Guardian has also confirmed that Grace Mugabe has fled Zimbabwe for Namibia.
The questions now are will this remain largely non-violent and can a government emerge from the soft coup that is considered to have at least de facto legitimacy even if it doesn't have de jure legitimacy?
* This is one of my favorite Punch Cartoons. Handelsman did a great job capturing the insane type of announcements often made when a coup is actually undertaken.