There are strong rumors that the individual mandate repeal will be added to the Senate tax cut bill.
@SenJohnThune CONFIRMS:
-Individual mandate repeal will be added to tax bill in SFC.
-They have 50 votes on the floor.
-Passing Alexander-Murray alongside (not within the tax bill) is part of the deal.

— Mike DeBonis (@mikedebonis) November 14, 2017
If they had 50 votes for this, it would have passed in July. But you know what to do; call the Senate.
More importantly, I want to look at errors underlying the assumption that Alexander-Murray will pass with 60 votes in the Senate in this scenario. That won't happen. Alexander-Murray is dead. Reality has overtaken the need for a deal to appropriate CSR funding. There could be a deal on 1332 waivers and catastrophic plans but not one on CSR funding.
I think it is fundamentally an issue with baseline confusion. Let's just follow the money on the first step.

The CBO has three relevant analysis. The first is their updated analysis on repealing the individual mandate. This scores as 13 million people losing insurance and reducing federal expenditures by $338 billion dollars. The second CBO score is the analysis of Alexander-Murray. The CBO score was no coverage change and a minimal deficit reduction of less than $4 billion dollars over a decade. That is effectively a rounding error. The final relevant estimate is the August estimate on the impact of not appropriating CSR payments. The CBO estimate a small coverage increase and an additional $194 billion dollars federal spending over a decade.
The story being told that makes A-M passable is that it is effectively a nothing-burger with a little bit of state flexibility built into it.  That is not the case.
Alexander-Murray was estimated with the specific assumption that CSR would be paid no matter what and that CSR would not be baked into the premiums.  That is not reality that we face today. Insurers had enough time to load CSR costs into Silver rates which has made premiums much more affordable.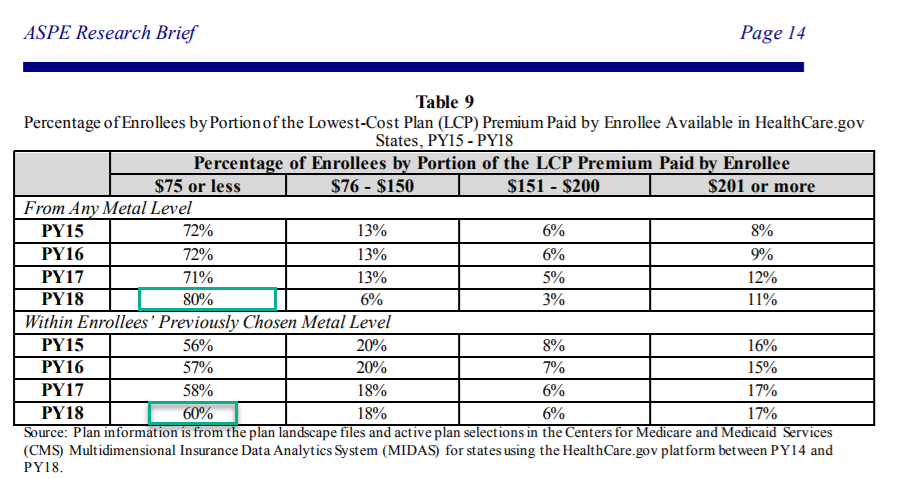 Alexander-Murray when measured against current reality is a $200 billion dollar reduction on health insurance subsidy spending.  Funding CSR makes Bronze and Gold plans much more expensive for subsidized buyers.  It does not meaningfully change non-subsidized premiums for most states as they were smart enough to not require a broad load on and off-Exchange.  Funding CSR makes a lot of people a lot worse off.  Right now we are seeing good enrollment numbers. These good numbers may be driven by lower relative pricing or Streissand effects or timing compression. But there are good deals on the Exchanges for subsidized buyers.
Passing an unmodified Alexander-Murray bill takes away those good deals. There may be space for Alexander-Murray waiver modifications will make it easier for states to craft reinsurance waivers that bring down non-subsidized premiums in 2019 but there is no policy reason for Democrats to fund CSR at this time and AM needs Democratic votes in the Senate.
Alexander-Murray is dead. Long live Alexander-Murray.