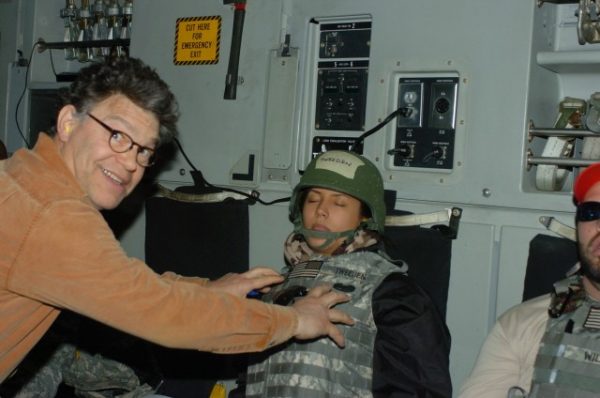 Given his coke fueled years at SNL, I doubt this will be the last person to come forward:
As a TV host and sports broadcaster, as well as a model familiar to the audience from the covers of FHM, Maxim and Playboy, I was only expecting to emcee and introduce the acts, but Franken said he had written a part for me that he thought would be funny, and I agreed to play along.

When I saw the script, Franken had written a moment when his character comes at me for a 'kiss'. I suspected what he was after, but I figured I could turn my head at the last minute, or put my hand over his mouth, to get more laughs from the crowd.

On the day of the show Franken and I were alone backstage going over our lines one last time. He said to me, "We need to rehearse the kiss." I laughed and ignored him. Then he said it again. I said something like, 'Relax Al, this isn't SNL…we don't need to rehearse the kiss.'

He continued to insist, and I was beginning to get uncomfortable.

He repeated that actors really need to rehearse everything and that we must practice the kiss. I said 'OK' so he would stop badgering me. We did the line leading up to the kiss and then he came at me, put his hand on the back of my head, mashed his lips against mine and aggressively stuck his tongue in my mouth.

I immediately pushed him away with both of my hands against his chest and told him if he ever did that to me again I wouldn't be so nice about it the next time.

I walked away. All I could think about was getting to a bathroom as fast as possible to rinse the taste of him out of my mouth.

I felt disgusted and violated.
Franken's response is weak tea:
Sen. Franken provided the following statement to Fox 9 on Thursday: "I certainly don't remember the rehearsal for the skit in the same way, but I send my sincerest apologies to Leeann. As to the photo, it was clearly intended to be funny but wasn't. I shouldn't have done it."
I'm not sure how there is an innocent explanation for this, and unless and until I see one with some corroborating statements from the photographer or others, in my opinion, Franken should probably resign.
*** Update ***
Apparently it is of major importance that I note that I no longer think Franken should resign given the events of the day. My opinion was based on his bullshit first response. Things changed.