GQ sent a reporter to Kentucky to see if he could ferret out the truth about why Rand Paul's neighbor curb-stomped the Tribble-topped senator. As the reporter noted, the altercation was originally cast as a dispute over lawn care.
More recently, Paul's staff and conservative outlets have been hinting darkly that the attacking neighbor was motivated by politics. But the GQ report suggests the simplest explanation: a clash of egotistical assholes. Excerpts:
If it is possible for a man, as he's being hauled in front of a judge for his arraignment, to somehow still project an air of haughty superiority, well, that man would look like Rene Boucher did as he appeared in court just over a week ago.
If Paul is ever arraigned (FSM please!), he'll project just such an "air of haughty superiority." It's his permanent state — possibly a consequence of an action all mothers warn against: "If you keep doing that, your face will freeze that way." Paul kept doing that. Sounds like Boucher did too.
Jim Skaggs, who lives nearby (and is also the developer of the community), said that he thinks that Boucher charged at Paul from the street. From that direction, Paul's yard slopes steeply downward, toward the lake at the rear of his property. Barreling downward, about 30 degrees, this imagined path would increase the force of a running tackle, perhaps explaining how a man of Boucher's diminutive stature—an acquaintance of the two men estimates that they both stand five-foot-six and about 140 pounds—could do so much damage.
There's also speculation that Boucher kicked the shit out of Paul while he was down. I'd bet money on it.
But across Bowling Green, sympathy for either man appears to be in short supply. [Bowling Green resident Bill] Goodwin described them as 'two little shits' who have brought embarrassment upon the town.
This has the ring of truth to my ear.
In other news, Kellyanne Conway jumps on the "Republicans for Child Molester Roy Moore" bandwagon because tax cuts. Transcript from Fox & Friends via MSNBC's Kyle Griffin on Twitter: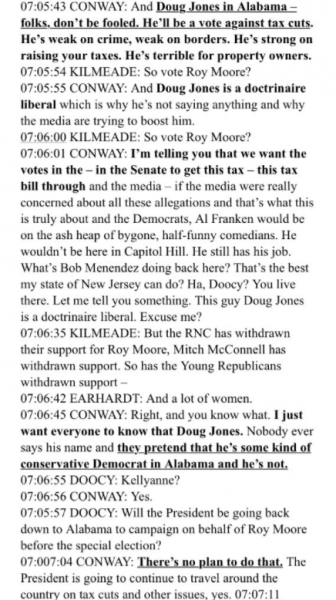 The entire party is hopelessly depraved. But you knew that. Open thread!