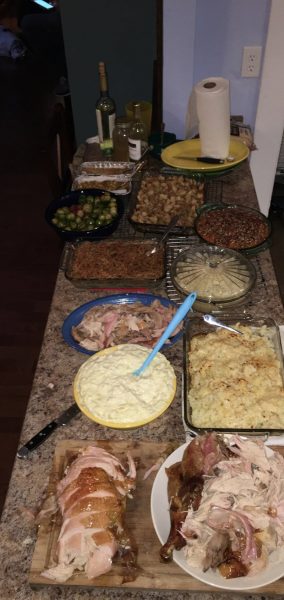 That's only half the food- Tammy fell asleep before sending me the pictures (I took that one then realized my photography sucks so she should take them), so you are stuck with my shitty picture.
We had:
-turkey
-stuffing/dressing
-mashed potatoes
-sweet potatoes with bourbon and topped with pecans
-cranberry relish with orange
-brussel sprouts
-green bean casserole (the old school one with Campbell's cream of mushroom and those crunchy onion things on top)
-sauerkraut
-applesauce
-lentil salad
-broccoli and cheese tort
-tomato and olive tort
-succotash
-creamed turnips and parsnips
-apple pie
-pumpkin pie
-banana bread
-amish bread
The last thing I don't know what to call but I will go with "deconstructed cobbler." I cut up a pineapple, a bunch of apples and pears, then make a sauce of butter, brown sugar, cinnamon, raisins, cranberries, and granola, and pour it all over and bake it. Then top it with fresh whipped cream.
Tammy and Brian slaved all day- she threw me out of the kitchen on several occasions, so even though I was technically the host, all I did was brine the turkey, peel potatoes and sweet potatoes and make the sweet potatoes, the sauerkraut, the green bean casserole, and the deconstructed cobber. Brian cooked the turkey and mashed potatoes, dad brought the two torts the succotash, the turnips and parsnips and amish and banana bread, and Tammy did her world class cauliflower gratin, the sprouts, the stuffing, a lentil salad and basically made everything happen in a timely and orderly fashion and made sure that everything was taken care of, which is really the hardest thing of all.
At any rate, it was nice for my mom and dad to not have to cook and clean (although dad cooked anyway and did the honors carving) and hosting my aunt and uncle, brother and one sister, and a bunch of other people. I hope you all had a good thanksgiving.
I'm just going to sit here with Lily and Steve until I nod off.