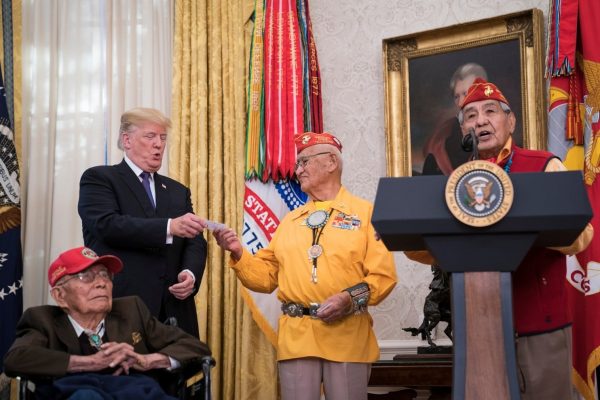 Betty Cracker covered this earlier, but two quick things about this Trump "Pocahontas" outburst.
1.) As my friend pointed out to me on FB, these fucking stooges in the WH chose to honor the Navajo code talkers in front of a large portrait of Andrew Jackson.
2.) It's worth remembering what Senator Warren did to deserve this crap. Her major transgression, her big sin, this egregious breach of trust was… relying on what her family told her about her heritage and then passing it on to others. I know this is hard to believe, but this is how most people learned who they were and their family history- the oral tradition. There wasn't always genealogy.com and DNA testing.

So she relied on what she was told growing up in Oklahoma, where probably everyone is somewhat Cherokee to some extent. That's why they are calling her Pocahontas and the sophisticated race-baiters and bigots are calling her Fauxcahontas. That's her fucking crime. And it is worth noting that to this date NO ONE has proven she is not some small part Cherokee, there's just no paperork proving she is.
At any rate, I need to get something off my chest. This is me, my brother, and sisters, as children. I'm the gap toothed one on the far left.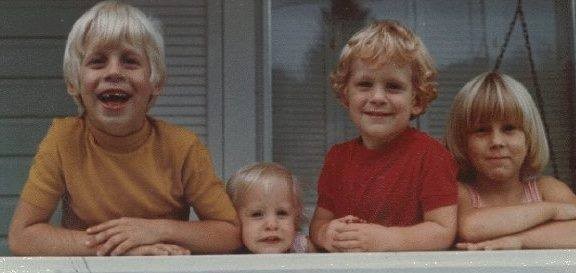 A bunch of fine looking Kinder! For years, we have been telling people that we were mostly German. On my mothers side, there is a touch of Scottish. But mostly we were under the impression that we were pretty much full German. My father's parent's names were Vogel and Cole, and my mom's side is Rudolph and Blaine (her father a German and my grandmother Scot from on parent). We can trace our family back to the Hessians. We've always thought we were almost completely German
But a year ago, my father did a DNA test, and it turns out we are a bunch of frauds and not nearly as German as we thought. In fact, my father is only about 30% German. It appears that Nordic blood courses through his veins, and we are as much Viking as we are German.
My entire life has been a fraud- an elaborate ruse, a lie.
That's how fucking stupid this Pocahontas crap is, on top of being offensive to Native Americans.