This happened in Florida, but it isn't your usual Florida Man story:
There's  a letter in The New England Journal of Medicine, faccompanied by this photograph of the ink in question (h/t Ars Technica):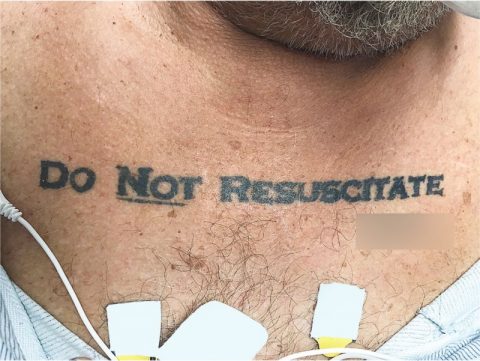 What would you do, faced with an unconscious, unaccompanied and unidentified person with this on their chest?
(ETA: I guess the tattooed signature is an identifier.  But I'm guessing they mean formal ID, and one that might lead them in a timely fashion to the necessary records.)
The Florida hospital staff seems to me to have got it right this time.  Here's how the patient came to them:
Paramedics brought an unconscious 70-year-old man with a history of chronic obstructive pulmonary disease, diabetes mellitus, and atrial fibrillation to the emergency department, where he was found to have an elevated blood alcohol level. The staff of the medical intensive care unit evaluated him several hours later when hypotension and an anion-gap metabolic acidosis with a pH of 6.81 developed.
Remember: no ID, no family to ask, and a patient unable to speak on his own behalf.  The ER tried to get him to the point where he could tell them his intentions, but he never reached that point. What to do?
We initially decided not to honor the tattoo, invoking the principle of not choosing an irreversible path when faced with uncertainty. This decision left us conflicted owing to the patient's extraordinary effort to make his presumed advance directive known; therefore, an ethics consultation was requested.
While they deliberated, the patient received not-terribly intrusive treatment, but treatment.  Then…
After reviewing the patient's case, the ethics consultants advised us to honor the patient's do not resuscitate (DNR) tattoo. They suggested that it was most reasonable to infer that the tattoo expressed an authentic preference, that what might be seen as caution could also be seen as standing on ceremony, and that the law is sometimes not nimble enough to support patient-centered care and respect for patients' best interests. A DNR order was written.
The patient died that night.  Later (after his death, I think, though the letter isn't entirely clear) the patient was identified and his written DNR order was found in Florida Dept. of Health files.  The takeaway?
This patient's tattooed DNR request produced more confusion than clarity, given concerns about its legality and likely unfounded beliefs1 that tattoos might represent permanent reminders of regretted decisions made while the person was intoxicated. We were relieved to find his written DNR request, especially because a review of the literature identified a case report of a person whose DNR tattoo did not reflect his current wishes.2
In other words:  Don't Get The Tat If It Ain't Where You're At!
Open thread.