Uber plays as a shitty, shitty version of the Snidely Whiplash of corporate persons:
The next step:* A letter from a former Uber security employee, accusing the company of secretly surveilling competitors, is expected to be released, in a redacted form, by the court on Friday.
(From The New York Times Dealbook newsletter.)
What's the crappiest/dumbest thing you've ever seen management do where you worked?
And now, for a moment's amusement and/or devant le revolution tumbrel reservation list, here's the tea room at Claridges, in the West End, which I had the pleasure of visiting. And that's it.  I didn't stay.  Don't even know where it is.  Really.  Don't warm up the guillotine…please…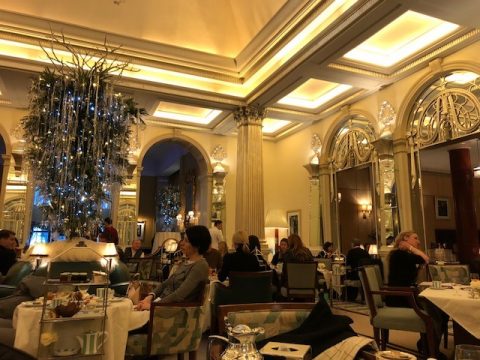 I was actually just across the pond for a quick trip, centered on a memorial trip for a beloved aunt, who is one of my models/mentors in the art of living a life with intention.  But I did get to do some publishing/broadcasting work while I was there (hence, Claridges) and, as always, had a chance to drop in on some old friends.
So, in a post that is intended to offer a little change of pace from our usual chronicling of the end of the American century, I'll just sign off with a nod to some of my all-time favorite bovines. (Excuse the reproduction — that's me with an iPhone.)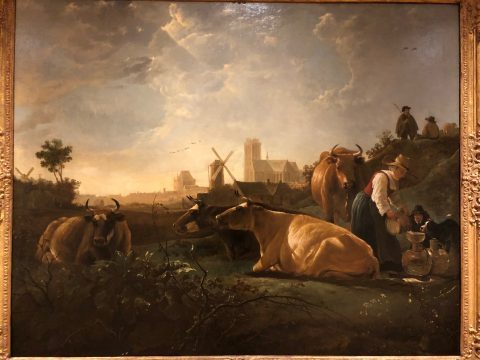 I should note — these are cattle ever ready for their closeup: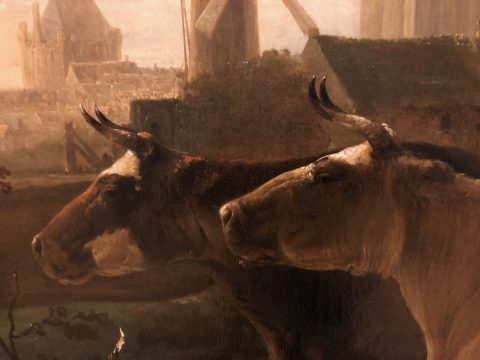 How now, Brown Cow?
And with a mite of randomness thus inserted into the day….
Open Thread.
*That's the next step in the trade-secrets case being fought between Uber and Alphabet (Google).
Image: Aelbert Cuyp, The Large Dort, aka A Distant View of Dordrecht, with a Milkmaid and Four Cows, and Other Figures,  c. 1650.
It's in the newly opened (reopened?) Gallery A in the basement level of the National Gallery in Trafalgar Square.  The room is a hoot.  It's huge, and it's populated by a sample of the Nat's collection across the full range of periods, medieval  to 20th c., one space with hundreds of paintings taking you on a wild journey.  The pictures are all good, and the room, on its own, would make a hell of a regional museum for almost any city around the world — and yet most of the work is stuff that didn't quite make the cut for inclusion upstairs.  Totally worth a look.