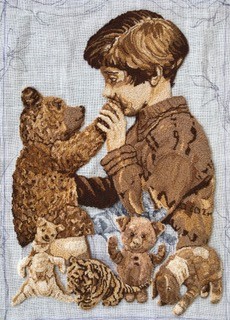 So yesterday in the afternoon open thread, donnah was trying to get a link to her project to work. I was on my way out the door, but said I'd post if for her later. It's the coolest hook rug with a great story.
I wanted to celebrate Christopher Robin and his love for Pooh bear and found that photo of them.The project is a hooked rug portrait of [them]. I wanted to include the images of the other real stuffed animals who were portrayed in the Milne Winnie the Pooh books. I found photos of the animals at the New York City Public Library website and paid $50 royalty fee for permission to use them.

The process is rug hooking, an old art form that uses a linen foundation on which I draw the design, and then I dyed white wool in honey colors and cut that into strips which are pulled up through the linen in loops to form the image. I dyed the wool to match the colors of honey, so it will essentially be monochromatic. It's a rug, but not for floors!.

When it's completed, I plan to donate the finished rug to our local Metro library's children's area in my dad's name. He took me to that library when I was little and got me started on a lifelong love of books. He would have been pleased.
This entire story made my day and it gave me an idea. My schedule is going to be relatively light between now and New Year's Day and I'd love nothing more than to share something that is special in your life in a post. If you have something fun you're doing, a story that touched you or any other good news, send it to me and I'll try and do a "something good" post several times between now and the new year.
Until then, use this post to tell us something good – something you're doing, something that's given you hope during these trying times, or you know, pet pictures. Because we are all suckers for a good pet picture. Maybe in holiday garb.
Speaking of: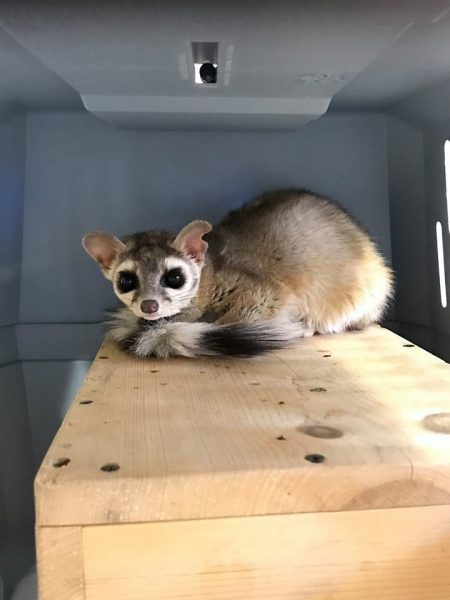 Greenwood Wildlife (our local rescue/rehabilitation center) returned this little stowaway back to the wild. She's a Ringtail Cat (raccoon family, not cat) who hid in someone's camper and traveled all the way down the mountain, then they found her while unpacking. Rare to see.
Oh, you thought it was going to be a puppy picture? Well, maybe next time…and I might throw some duck photos/video in for good measure.
Good news open thread.