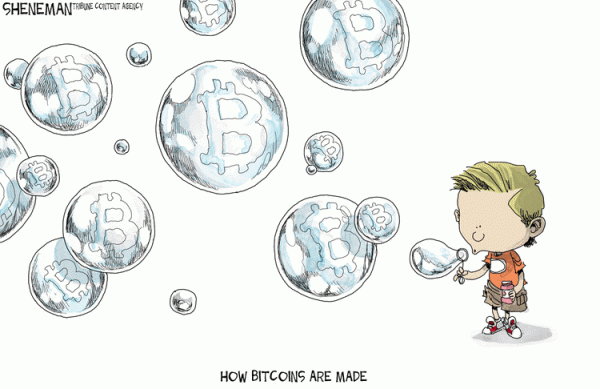 Bitcoin plunges 25% in 24 hours in cryptocurrency market rout https://t.co/pYipLSJxNC via @WSJ

— David Wessel (@davidmwessel) December 22, 2017
Whoa bitcoin. Down and to the right.

Down nearly 50 percent from its peak and still falling

— Farhad Manjoo (feat. Drake) (@fmanjoo) December 22, 2017
But… but… BLOCKCHAIN!!! https://t.co/JNx0ZJazrG

— Daniel W. Drezner (@dandrezner) December 22, 2017
Bitcoin prices climbed back above the $15,000 mark Saturday following a steep decline Friday when the cryptocurrency shed about a third of its value.

Bitcoin, which is known to be extremely volatile, sank below $11,000 at one point Friday, according to data from CoinDesk.com.

Prices had approached $20,000 as recently as a week ago….
I'll concede that Bitcoin is as "rational" as any other highly speculative investment, but dear trickster god the stories…
NFL running back Darren McFadden alleged a financial advisor wrongfully took $3 million from him relating to a #Bitcoin venture. Had it actually been invested in Bitcoin, it would be worth about $237,000,000: https://t.co/1OkX9Ll2WX

— Chase Carlson (@ChaseACarlson) December 18, 2017
My barber said his brother-in-law was investing everything in Bitcoin, and asked me if he should too. This will not end well. https://t.co/puAVQHJY3T

— Paul Krugman (@paulkrugman) December 21, 2017
You can't make this up: pic.twitter.com/ExdIkKGDKU

— Conor Sen (@conorsen) December 21, 2017
Problem is, even if cryptocurrency is the most rational method of storing value, it's being developed / used by human beings, who (per all historical records) may not be…
The cyberattack that felled S. Korean bitcoin exchange this week was probably conducted by—surprise, surprise—N. Korea, S. Korean investigators say. Lots of new details here from our crack Korea bitcoin team.@timothywmartin @_eunyoungjeong @srussolillohttps://t.co/nHw62mDb9q

— Jonathan Cheng (@JChengWSJ) December 21, 2017
I don't have "Bitcoin theft" on my "how does the Second Korean War start?" bingo sheet, but maybe I should https://t.co/Me6KEaBJuJ

— Kelsey D. Atherton (@AthertonKD) December 21, 2017
Isn't Vampire Squid LLC always a leading bubble indicator?…
EXCLUSIVE: Goldman is setting up a cryptocurrency trading desk https://t.co/yiDqSYuQzp pic.twitter.com/DQqshvImLf

— Bloomberg (@business) December 21, 2017
#Cryptocurrencies #Monero #Cybersecurity: Currency-mining Android malware is so aggressive it can physically harm phones – Dan Goodin (Ars Technica): "This is your phone on mining software. Any questions?" https://t.co/l9YBiai2Ez

— MiguelAfonsoCaetano (@remixtures) December 20, 2017
OK

OK, right so

OK people are walking around with pocket computers connected to all the world's knowledge and they're catching fire in their pockets because hackers have hijacked them to solve cryptographic puzzles in order to generate imaginary currency.

OK that's fine then https://t.co/LR4DdZbMOe

— Viveka ? (@viveka) December 20, 2017
If you look at this and feel smug self satisfaction that you're not flushing your money down the toilet on bitcoin you should take a good hard look at yourself and realize you're right to feel that way. https://t.co/17Q7t5O7NL

— Josh Marshall (@joshtpm) December 23, 2017