Sure, it looks like a bucket of feeble suds and rolled gym socks now, but the contents of this pot are slowly forming the basis for the most delicious French onion soup ever, which will be consumed with relish* this evening: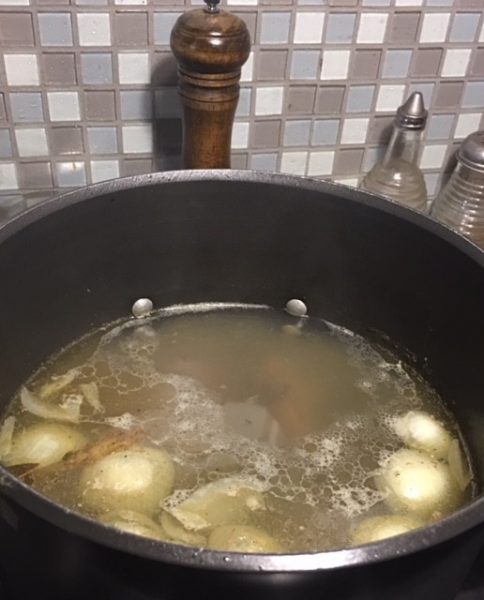 Every Christmas, we have a four-bone prime rib for Christmas dinner. The dogs get two of the ribs. The other two ribs get lightly sauteed in olive oil and placed in a stock pot, along with bay leaves, thyme, garlic, onions, carrots, celery and salt. After it simmers for a few hours, the stock is strained into containers and cooled.
Meanwhile, a few pounds of onions are slowly caramelized (which takes nearly an hour — don't listen to the recipes that lie about this!) in butter and oil with salt, pepper and a pinch of sugar.
White wine is added to the onions and cooked nearly out, then in goes the broth, which is simmered again for a while with the onions, then in goes a bit of extra butter and perhaps some sherry. Then seasonings are adjusted as need be, and the soup ladled into oven-proof bowls, topped with toasted baguette slices and then topped again with modest piles of Gruyère and placed under a broiler until golden brown and bubbly. There is no better soup, in my opinion, even though French onion soup can be treacherous!
As I mentioned in the morning thread, I received Julia Child's post-WW2 years memoir, "My Life in France," as a Christmas gift, and I've been reading it. Very interesting. I wish I could invite her over for some French onion soup! She would have made a fine jackal; she was a big old libturd just like us, only not quite so snarly.
I also received an electric wok. Looking forward to finding some recipes for that, preferably ones that incorporate fresh ginger since we have scads of that growing. Please feel free to share any you know of in comments!
Open thread!
* "Relish" as in great enjoyment, not a condiment! ?