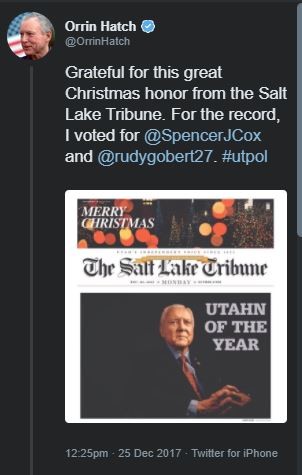 As you can see, the Salt Lake Tribune named seven-term senator Orrin Hatch Utahn of the year. That seems to be as far as Hatch or his aides read before tweeting. Let's look at the editorial.
These things are often misunderstood. So, lest our readers, or the honoree himself, get the wrong impression, let us repeat the idea behind The Salt Lake Tribune's Utahn of the Year designation.

The criteria are not set in stone. But this year, as many times in the past, The Tribune has assigned the label to the Utahn who, over the past 12 months, has done the most. Has made the most news. Has had the biggest impact. For good or for ill.
Prophetic words to start! Here's the reasoning.
It has everything to do with recognizing:

Hatch's part in the dramatic dismantling of the Bears Ears and Grand Staircase-Escalante national monuments.
His role as chairman of the Senate Finance Committee in passing a major overhaul of the nation's tax code.
His utter lack of integrity that rises from his unquenchable thirst for power.

Each of these actions stands to impact the lives of every Utahn, now and for years to come. Whether those Utahns approve or disapprove of those actions has little consequence in this specific recognition. Only the breadth and depth of their significance matters.

Always worthwhile to read more than the headline before tweeting. Or is this more gaslighting from the ever-gaslighting Republican Party?
Reader Interactions