These guys:
Attorney General Jeff Sessions will roll back an Obama-era policy that gave states leeway to allow marijuana for recreational purposes.

Two sources with knowledge of the decision confirmed to The Hill that Sessions will rescind the so-called Cole Memo, which ordered U.S. attorneys in states where marijuana has been legalized to deprioritize prosecution of marijuana-related cases.

The Associated Press first reported the decision.

Sessions, a vocal critic of marijuana legalization, has hinted for months that he would move to crack down on the growing cannabis market.

Sessions, since taking over as head of the Justice Department, has appeared to show a harder line on marijuana. In May, the attorney general sent a letter to congressional leaders requesting they get rid of an amendment in the department's budget that blocks DOJ from using federal money to prevent states "from implementing their own State laws that authorize the use, distribution, possession or cultivation of medical marijuana."
Not only is this insane, but it will be completely unpopular: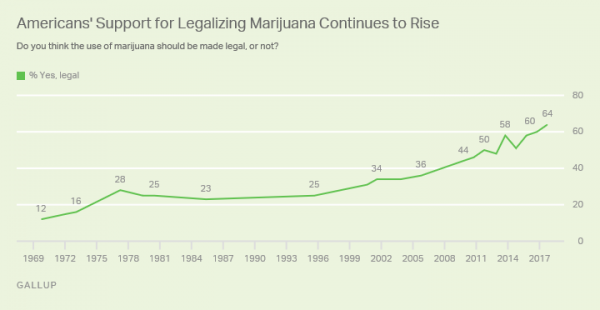 At some point, we're going to have to address the tyranny of the minority going on in this country, when backwoods rubes from a few red states are setting social policy for the vast majority of the country.