Here's how the Trump White House opened the press briefing today, as the fallout from the Wolff book continues to eclipse even the Day of the Tan Suit as a media inflammation event: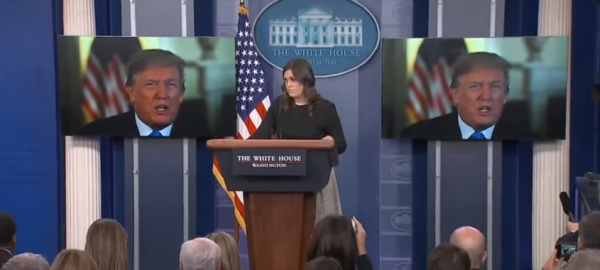 Sarah Huckabee Sanders began the briefing by introducing a "special guest," and then Trump's hideous orange visage loomed on screens placed on either side of her. He read a script in which he bragged about the stock market, took credit for bonuses workers have recently received, etc.
Trump is in the White House today. He could have strolled down to the briefing room and made a statement in person. But that would require the ability to make a coherent statement live and the discipline to avoid going ape-shit at reporter questions. Since Trump possesses neither of these abilities, they went with the Wizard of Oz approach.
I think Trump is deeply rattled by this Wolff thing, and the White House staff is afraid he might do something embarrassing in front of civilians, like humping a flag or smearing poop on the drapes. What a bizarre time we live in!
Open thread!