My dogs are quietly outraged because I haven't taken them for a walk in several days. Every time I put on shoes or pull on a sweater, they rush to the door in anticipation. But it's been too damn cold for walks, and they know it too: When we let them out in the yard, they're banging on the door to come back inside within five minutes.
Other critters in the state are handling the cold snap in their accustomed ways. Here's a herd of manatees swarming the entrance to Three Sisters Springs in Crystal River, Florida, which is one of the best places on the planet, IMO: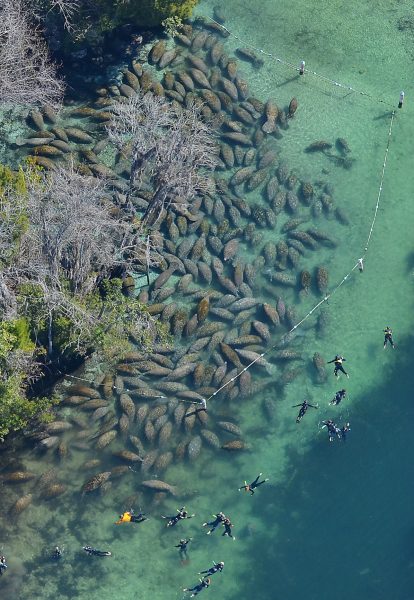 The water flowing from the springs is around 72 degrees year-round. In the summer, that feels heart-stoppingly cold. But on a cold day like this, jumping into the springs feels like sliding into a warm bath. That warmth is what the manatees are after.
Next week, it'll warm up, and the manatees will venture out of the canals in search of more plentiful vegetation. And I'll start walking my dogs again.
Open thread!