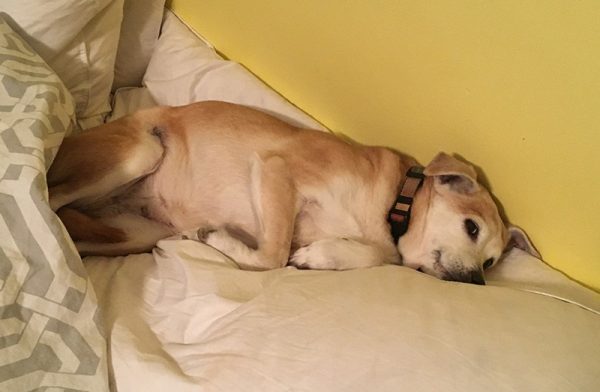 No, I did not make stew out of Lily, that was just a cute picture I took earlier as she was protesting me changing the sheets. I waited until later.
It's been super chilly the past couple of days, so much so that I found my winter coat and wore it yesterday briefly. As such, I have been craving hearty foods, so tonight I am making a beef stew. I'm not super good with recipes (meaning I don't really use them or write them down), but here is what I did:
1.) We had a standing rib for New Year's Eve- I found a glorious cut of beef the day after Christmas marked down from $90.00 to 40.00, so I scooped it up and put it in the fridge until New Years, and we made a salt encrusted prime rib. At any rate, they had some really good bones, so I saved them, and I keep a gallon freezer bag in the freezer and any time I use onions, celery, or carrots, I keep the peels and ends and store them and then use them to make stock. Cooked it all down so I had a good half gallon of solid stock.
2.) Picked up a cheap cut of beef, cut it into pieces, floured it, added salt and pepper, and put it aside and then made a simple roux in a saute pan (just to make sure the stew got a good thickness to it). Put the roux aside, added more butter, and then browned the meat. Put the meat and the roux in the pressure cooker, and then deglazed the pan with the beef stock, poured it into the pressure cooker.
3.) Did a modified rough cut on some carrots, celery, onions, and potatoes, and threw them in the pressure cooker.
4.) Added a wee can of tomato paste.
5.) Added some peas and the rest of some of a bag of fresh green beans I had leftover from another meal.
6.) Added a splash or two of Lea and Perrins and the same of some really good soy sauce I like that is aged in old whiskey barrels from Kentucky, some dried paprika and thyme, salt, and for shits and giggles, a little bit of crushed kampot peppercorns (got a friend who goes to Cambodia a lot).
It's cooking now. I'll let you know how it turns out.
*** Update ***
And done. Not as thick as I was hoping, but it will thicken up a touch.